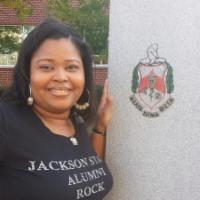 A native of Jackson, MS, Brianne is the daughter of Le'Roy Laws and Jacqueline Young who are both Jackson State graduates. She chose to attend Jackson State University to continue her family tradition.
Brianne is a product of Jackson Public School District. She graduated in 1998 from Provine High. Brianne received her Bachelor's degree in Psychology from Jackson State University in 2002, returned in 2005 and completed her Master's in Guidance and Counseling. She began her professional career with the Bureau of Prisons, Federal Prison System. She has worked for the Department of Agriculture, Forest Service, and the Department of Veterans Affairs and Veterans Health Administration.
Brianne is currently a Vocational Rehabilitation Counselor with the Department of Veterans Affairs, Veterans Benefits Administration in New Orleans, LA where she assists disabled Veterans with training and employment.
Dr. Alfonzo Haralson, Adjunct Professor, now Associate Professor in the Department of Counseling, Rehabilitation, and Psychometric Services mentored Brianne during her undergraduate studies. He encouraged her to further her education, obtain her Master's degree, and licensure. Brianne attended numerous student activities on campus. She is also a member of Delta Sigma Theta Sorority, Inc. and Order of the Eastern Star where she is involved in numerous community service projects.