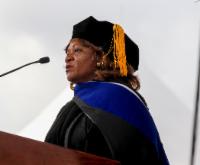 Dr. Alma J. Dent Pittman, originally from Yazoo, Mississippi, is currently the Vice President of Community Affairs for Pittman Enterprise. Dr. Pittman is also a retired registered nurse with over 35 years of service and former owner of her own radio talk show. She obtained an associate's degree from Hinds Community College School of Nursing and pursued her clinical training at the University Medical Center in Jackson, MS and Albuquerque, NM.
Following clinical study, she began her career working at St. Dominic Memorial Hospital, where she specialized in pediatric, in-service education and preoperative/postoperative surgical care. Upon moving to Louisville, Kentucky she resumed her career at Baptist Hospital serving as an Orthopedic Nurse and Nurse Coordinator for the medical personnel pool. She later joined the Caretender's medical team working as a private duty ventilator tracheotomy nurse.
Dr. Pittman has given back to her community accepting several speaking engagements such as the DuQuesne University School of Nursing Health Ethics Annual Meeting in 2007 and 2009, the Women's Reconnection seminar held at St. Stephen Baptist Church in 2008 and was the 2004 keynote speaker for "Spirit of Excellence" Tribute to the Business community. She also delivered the keynote address for the 2011 Women of Color Entrepreneur conference hosted at Jackson State University.
Dr. Pittman has served as a resource expert and catalyst on both the local and the state level for the development and implementation of faith-based health programs that promote, improve and maintain an individual's wellbeing. Her passion for health and wellness has resulted in the manifestation of numerous health fairs and expositions for early detection and prevention of obesity and health disparities. Dr. Pittman recently launched, the BODY & SOUL program, an innovative spiritual health series geared to educate adults and children on positive eating and healthy living in order to ensure their optimal health.
As a result of her achievements and service to the community, Jackson State University bestowed an honorary doctorate degree to Dr. Pittman in 2017 to recognize her profound and enduring contributions to scholarship and improving the quality of life of students and the community at-large.
Along with an enhanced and fulfilled career, her greatest rewards are having inter-peace with God and a passion for humanity. Dr. Pittman is a dedicated server of God and her church. She is an active member of Quinn Chapel African Methodist Episcopal Church in Louisville, Kentucky, where she serves as a steward, choir member, missionary society member and former Church School Superintendent (18 years). She also served as the District Co-Director of Health and Wellness in Kentucky and Tennessee.
Dr. Pittman's dedication and steadfast work has been recognized with the Pioneer Nursing Award and 2009 Leadership Award, presented by her pastor for grateful appreciation of her total commitment and dedication to the church school. Dr. Pittman was also presented an Exemplary Leadership and Service Award for church and community in 2010 by Bishop Vashti Murphy McKenzie. In addition, she received the Distinguish Donor Award for the mission of "rebuilding lives and communities" in the 13th Episcopal District 2007.
Dr. Pittman is a member of numerous organizations nationally and throughout the Louisville Metropolitan Area. Her memberships include, Life Member National Nurses Association; the KYANNA Black Nurses Association; and the advisory board of the Chestnut Street YMCA Black Achievers. Dr. Pittman is also a trustee at Simmons College of Kentucky (HBCU).
An important aspect of Dr. Pittman's life is family – her husband of 48 years, Winston R. Pittman, Sr., three children, Winston R. Pittman, Jr. (Vice President of Pittman Enterprise), Misty V. Withers (mother and studying health psychology), and Jabari D. Pittman, Sr. (personal fitness trainer), a son-in-law, Marcus D. Withers Sr. (real estate developer), two daughters- in- law Sarita K. Pittman (salon and spa director), Mia Pittman (data analyst), and five grandchildren Kennedy, Jayce, Hardt, Marcus, II and Jabari, Jr.