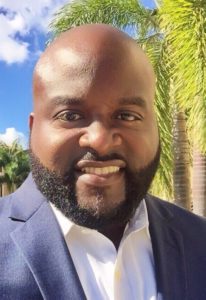 Matthew S. Bradford is a proud native of Laurel, Mississippi; he has been a resident of Florida, since 2001. Matthew is a 1995 graduate of Jackson State University where he received his B.S. in Computer Aided Drafting and Design with a minor in Computer Science. Professionally, he has over 20 years of experience in the field of Technology, working for a number of Fortune 500 companies. He is presently Interim Chief Information Officer for the Broward County Public School District, the 6th largest public school system in the United States. The District, which is Broward County's largest employer with over 30,000 employees, serves over 270,000 students enrolled in over 300 schools and education centers countywide.
Matthew has a strong commitment to community service. He has held leadership offices in many community organizations such as the Mississippi Youth Sports Association, Boys Scouts of America, Big Brothers/Big Sisters and is currently an Advisory Board member with the Boys and Girls Club of Fort Lauderdale. He also serves as Chairman of the New Mount Olive Baptist Church Board of Directors and is a member of its Chorale Music Ministry.
He was nominated for the 2010 African American Achievers Award for Community Service. Matthew was also named one of Legacy Magazine's Top 40 Under 40 South Florida Business Leaders of 2012 as well as one of the Top 50 Most Powerful Black Professionals in Business and Industry of 2014.
He is a proud member of Alpha Phi Alpha Fraternity, Incorporated, where he has served in various leadership capacities. He is currently Co-Chair, Management Information Systems Committee for Alpha Phi Alpha nationally, the Immediate Past District Director for the Florida Federation of Alpha Chapters and is a Board Member of the Zeta Alpha Lambda Educational and Charitable Foundation. He has also served as President of the Zeta Alpha Lambda Chapter of Fort Lauderdale, South Florida Director and Chairman of the Southern Region Election Committee. He believes that to succeed, your desire for success should be greater than your fear of failure.
That belief, along with the assertion that no backward steps be taken in life, are motivating factors in every aspect of his life. He and his beautiful Princess, Maya, reside in South Florida and are active members of the New Mount Olive Baptist Church of Fort Lauderdale, FL.