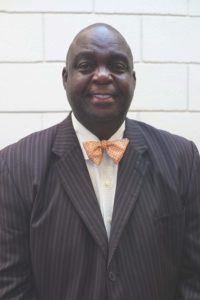 Eric D. Stringfellow is a 1982 graduate of Jackson State University and has been tasked with building another Department of Mass Communications, this time in The Lone Star State.
Stringfellow, who was the founding chair of Tougaloo College's Department of Mass Communication, serves as an assistant professor of Mass Communications at Jarvis Christian College in Hawkins, Texas. He has been charged with building the program from the ground up. Stringfellow, who earned his graduate and undergraduate degrees from Jackson State University, came to Jarvis in 2018 as its Director of Communications and moved to the faculty this fall.
Before coming to Jarvis, Stringfellow served as an independent program and media consultant. His clients included Jackson Public Schools, the Institute of Government at Jackson State University and the Mississippi Roadmap to Health Equity. Previously, Stringfellow served as executive director of University Communications at JSU and Interim Chair of JSU's Department of Mass Communications.
Stringfellow also had a distinguished career as a journalist, and wrote an award-winning column for Mississippi's largest newspaper.
Stringfellow began his journalism career at The Commercial News in Danville, Ill., where he served as an intern and a general assignment reporter. During his first stint at The Clarion-Ledger he served as general assignment reporter, county government reporter and City Hall reporter before leaving for The (Cleveland) Plain Dealer. He served Ohio's largest newspaper as a general assignment reporter and later covered state courts and federal courts.
He also served as president of the Cleveland Chapter of the JSU National Alumni Association and president of the Cleveland Association of Black Journalists.
After returning to The Clarion-Ledger he served as night editor, political editor, and public editor was a member of the newspaper's Editorial Board, and started his column. He also served Jackson State University as an adjunct professor and professional-in-residence. In addition, he served as an adjunct professor at the University of Mississippi.
Stringfellow is past president of the Jackson Association of Black Journalists, the 100 Black Men of Jackson and is a former board member for Mission Mississippi, the Margaret Walker Alexander Research Center, Baby Steps and the Tiger Fund. He is a member of the Margaret Walker Alexander Research Center and a board member of JSU Sports Hall of Fame.
Stringfellow was the recipient of the Mary Church Terrill Literary Club Award for Journalism, Alpha Phi Alpha's Community Service Award, and Phi Beta Sigma's Community Service Award for Journalism, the Mississippi Black Chamber of Commerce's Charles Tisdale Award for Journalism, and the 2008 Mississippi Humanities Council Teacher of the Year for Tougaloo College. Stringfellow holds an undergraduate and master's degree from Jackson State University – where he was also a member of the JSU football team.
He is a life member of the JSU National Alumni Association, Inc.