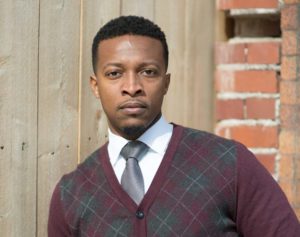 Terel Key is a native of Jackson MS. He attended Jackson State University and obtained a bachelor's degree in mass communications with an emphasis on broadcast production. Key is a proud member of Phi Beta Sigma Fraternity, Incorporated. Also while attending Jackson State, he played in THEE Sonic Boom of the South playing the French Horn and Mellophone. He also played the French Horn in the Brass Quintet, Symphonic Band, and the Symphony Orchestra. Upon graduation, he found the love of working with children and decided to go into the education field. In 2003 he moved to Memphis TN to work with children with special needs. Key is a former educator with Shelby County Schools where he taught 5th Grammar and Writing and worked in the Exceptional Education field.
Key is currently self-employed as the owner of "The Shade Window Tinting." His company specializes in automotive, residential, and commercial window tinting with over twenty years of experience. His career has also afforded him an opportunity to act in several local plays such as "Til Morning Comes", "The Man Store", "Four Women", "Full Course Love", "Dinner Theater", and several other plays. Additionally, he has acted in a few films and TV Shows that were shot in Memphis. When Key is not on camera or seen on stage, he is working behind the camera doing some freelance videography and photography. Also, he volunteers at The Lewis Senior Center and Hickory Ridge Elementary where he teaches acting and film. He and his wife have a Facebook page called "KEYping Up With The Keys" in which they display various character impressions and fun family skits. They have recently started a show on C19TV which is a television station for Shelby County Schools. It's a fun-filled family educational show that airs every Saturday morning at 10:00 am. The show is aired on Comcast channel 19, www.voiceofscs.com, Voice of SCS Facebook page, and KEYping Up With The Keys Facebook page.
Key is married to Chrisla Key and they have two boys, Gabriel and Jacob, and he is a life member of the JSU National Alumni Association, Inc. and Memphis Alumni Chapter.