D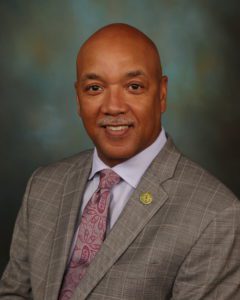 r. Reggie Sykes, president of Bishop State Community College, is a native of Meridian, Mississippi, where he graduated from Meridian High School. He earned both his bachelor's and master's degrees from Jackson State University and his doctorate in school administration from Mississippi State University.
Dr. Sykes previously served as director of the East Mississippi Center for Educational Development at Mississippi State University-Meridian Campus for one year. He served as dean of students at Meridian Community College for seven years, dean of student services at Mississippi Gulf Coast Community College – Jefferson Davis Campus for one year, vice president of Jefferson Davis Campus for five years, worked for the Mississippi Institutions of Higher Learning, serving as assistant commissioner for community and junior college relations, and before being appointed as president of Bishop State Community College, he served as president of Alabama Southern Community College for nearly six years.
As president of Bishop State Community College, Dr. Sykes has embarked upon many new and exciting ventures. It is through his leadership and vision the College was one of 10 community colleges from across the nation chosen to offer Apple Swift Coding. The curriculum is designed by Apple engineers and educators using Swift, one of the world's most popular programming languages. Additionally, a new collaborative relationship developed between Bishop State and The University of South Alabama with a Pathway USA program. This articulation agreement was designed to support a smooth transition for transfer students from Bishop State to South Alabama and from South Alabama to Bishop State. A second articulation agreement was entered into between Bishop State and the University of Mobile whereby credit hours of Bishop State students' will transfer seamlessly to that institution as well. On the grant side, Bishop State Community College and Alabama State University received a Thurgood Marshall Pipeline Grant where students from both institutions attended seminars in cyber defense, data mining, artificial intelligence and SWIFT coding. Under Dr. Sykes' leadership. the future growth of the College appears to be promising with the expansion of the Workforce Development Department that is primarily due to the training needs of the community-at-large. Just recently, Alabama Power and Bishop State entered into a partnership for a "Lineman Training Program", a program designed February, 2020 to train external candidates with the technical skills they need to be effective in the workforce relevant to the electrical industry including but not limited to, proper product application, proper product installation, performance analysis and product service, just to name a few. This program is already underway. The College has been approached by local business and industry leaders for customizing training programs that are specific to their needs. By creating partnerships with Austal USA, Ingalls Shipbuilding, Alabama Power, Outokumpu, SSAB to name a few, Bishop State is positioned to meet the workforce needs of the community by training students for the high-wage and high-demand careers in Mobile County and beyond. To meet these various training needs, Bishop State Community College is building an Advanced Manufacturing Center and a Health Sciences facility so students learn the skills needed in today's workplace. The construction on the new Advanced Manufacturing Center is expected to be completed by summer 2021. On the state level, Dr. Sykes is past president of the Alabama Community College System Presidents' Association and Secretary of the Alabama Community College Conference Athletic Committee. He is a member of the Rotary Club of Mobile, Mobile Area Chamber of Commerce Board, Phi Theta Kappa Presidential Advisory Board, Trustmark Bank Advisory Board, University of South Alabama Presidents Advisory Board, United Way of South Alabama Board, PARCA Board and the Atmore Alumni Chapter of Kappa Alpha Psi Fraternity. In his spare time, he enjoys hunting, fishing and playing golf. Dr. Sykes resides in Mobile, Alabama.