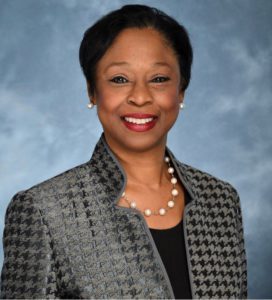 Dr. Denise J. Gregory is the Assistant Provost for Diversity and Intercultural Initiatives and an associate professor in the Department of Chemistry and Biochemistry at Samford University. Along with her administrative and faculty, she serves as the Faculty Athletic Representative and serves on various committees on campus.
Gregory attended Jackson State University and graduated magna cum laude with a Bachelor of Science in Chemistry. After JSU, she successfully completed the doctoral program at Georgia Institute of Technology with a Doctor of Philosophy in organic chemistry. Prior to her arrival in Birmingham at Samford University, she accepted her first position as an instructor of chemistry at Tuskegee University. Two years later she added to her resume and completed post-doctoral work in catfish genetics at the United States Department of Agriculture/ARS Division in Stoneville, MS.
Gregory attends Sixth Avenue Baptist Church where she serves on the trustee board, scholarship committee, and Vacation Bible School volunteer. She is a troop leader for Girl Scouts Troop #32280 and a member of Jack and Jill of America, a family organization dedicated to the purpose of developing our children and fostering life-long relationships. Gregory also serves on the Board of Directors for Holy Family Cristo Rey School. Gregory is a member of the Birmingham Alumnae Chapter of Delta Sigma Theta Sorority, Inc. where she continues to serve in several leadership roles and currently serves as the sorority advisor of the Sigma Eta Chapter at Samford University.
Gregory has been named Mother of the Year by the Jack and Jill Birmingham Chapter, Woman of Distinction Award by Girl Scouts of North Central Alabama, Advisor of the Year (2X) by Delta Sigma Theta Sorority, Inc. Southern Region. She is also a graduate on the Momentum Women's Leadership Program.
As an African American scientist, she has a unique professional platform to champion a cause dear to her – encouraging African American youth, and young women specifically, to strive to become front and center in fields generally underrepresented in this population. She is a founder/director of the Minority Youth Science Academy which is a residential program at Samford to prepare outstanding minority high school students who aspire to careers in science, technology, engineering, and math. Dr. Gregory is also featured in the October 2014 issue of Birmingham Magazine "Against the Odds: Women in Science" which featured Birmingham women in the traditionally male dominated careers in science, technology, engineering and mathematics. The article highlighted women who seek to be a role model, advocate, and mentor for women entering their fields.
Gregory is married to JSU alum and JSU Hall of Famer, Shawn Gregory. They are the proud parents of their very active and fun-loving teen daughter Shawnise and their adult son, Shawn. Her legacy runs deep with JSU from her alum parents, Henry and Linda Irby Jones and triplet sisters, DeWanda Jones Nelson and Dionne Jones Woody who are also JSU alums. Dr. Gregory and her family are all Life Members of the Jackson State University National Alumni Association, Inc.