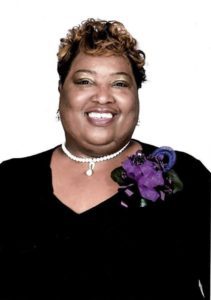 LaTonia Banks is a native of Minden, Louisiana and the youngest of five siblings. She is a 1993 graduate of Jackson State with a bachelor's of business administration in finance. Banks has worked for over 20 years in the field of construction as Document Control Manager, Project Support Manager, and Senior Project Analyst. She is the owner of JCS Associates and JCS Tax Group. She serves as the Chairperson of the Operations Engagement Committee at Parkland Hospital and as her Department's Employee Engagement Coordinator.
Banks is a member of Friendship-West Baptist Church where she serves as Children's Ministry Director. She is a member Delta Sigma Theta Sorority and serves as an advisor of the Lambda Chi Chapter at University of Texas at Arlington and serves as the Southwest Region Risk Management Coordinator. She currently serves as Executive Director of JCS Foundation and on the board for the Robbie Haynes Memorial Endowed Scholarship. She and her son were featured in Voyage Dallas Magazine for their work through JCS Foundation championing awareness and prevention of bullying. Banks is also a lifetime member of DFW Chapter of Jackson State Alumni.
Banks yearns to be an avid traveler and enjoys her weekend getaways. She has a passion for music and making people smile. Her loving spirit and infectious smile has yielded her many lifelong friends and relationships. Banks has been recognized as a leader in her field and her employment with the following awards being bestowed upon her. In 2018, she was selected as the Administrator of the Year for the LUNA Awards presented by the Regional Hispanic Contractor's Association. She was selected by a panel of judges from 28 nominees as the award recipient based on her submission packet. Banks was named one of five 2019 "Shero" Awards recipient by the Dallas County Hospital Police Department for her commitment and dedication at work and in the community. She was recently nominated by her employer for the DFW Hospital Council Systems Employee of the Year with the revealing of the winner to take place in April 2020.
Banks is a certified teacher for life in the State of Texas and uses her educational skills to tutor and prepare youth for college. She serves as Truancy Service Provider for Dallas County Truancy Court and offer truancy prevention classes for truant students of Dallas County once a month.
Banks enjoys staying abreast of the political climate and social justice. She served as campaign manager in 2019 for the first African-American to be elected as mayor of Cedar Hill, Texas. Immediately following that election, she became the campaign manager for runoff candidate for City of Desoto City Council who successfully won the election.
She is the mother of Jordan Seals who is a December 2019 graduate of Jackson State. She loves people and making a difference in the lives of others.