L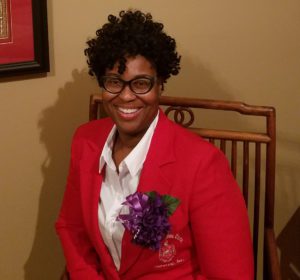 ela Hubbard has been a licensed master's level social worker since 1998. She has been employed with the MS State Office of Capital Defense as the lead mitigation specialist for the past 13 years. Her job entails conducting background investigations for defendants who are charged with capital murder in which the death penalty is sought. Hubbard obtained a BA in Criminal Justice and a Masters in Social Work from, "Thee I Love", Jackson State University.
Hubbard has always had a yearning to help people. She grew up with the mentality that when God blesses you with a talent, you use it to help people because you never know when you are entertaining an angel. While working on her undergraduate and graduate degrees, she worked as a youth counselor for the City of Jackson Human and Cultural Services and as a substitute teacher in one of Jackson's worse inner city schools located within a drug and gang zone. Her 1st job after receiving her master's degree was with the MS Department of Human Services Child Abuse and Neglect Division where she worked for the next 8 years. Over the course of her career, she has used her educational and life skills to work in different mental health settings.
Hubbard is a national speaker for several Public Defender Associations as well as a certified DVO (Defense Victim Outreach) specialist. She is also an affiliated supervisor for social work and law students at Mississippi College, University of Southern Mississippi, Jackson State University, University of San Francisco, Berkeley Law School, Northwestern Law School, and Ole Miss. She also trains Amicus and Warwick law students from England where the Death Penalty is not practiced. Because of her mental health training and social history developments, Lela and her capital defense teams have been able to secure multiple life verdicts and plea agreements. Due to her diligence and zeal for this work, she has been appointed to work on several federal death penalty cases, which are not readily given to women of color. This is an area that she wants to expand for women of color due to the overwhelming number of black defendants facing the Death Penalty across the United States, especially in the South. In her quest for learning, she went back to school 10 years later after receiving her MSW in 2006 and received a Paralegal Degree from MS College where she received the Outstanding Paralegal Award.
Hubbard pledged Delta Sigma Theta Sorority, Inc. in 1993 at Delta Pi, Jackson State University. She is an active member of the Jackson MS Alumnae Chapter of Delta Sigma Theta and serves on the Delta Gems/Academy committee. She has always taken a special interest in trying to mentor and model young females to be the best they can be and instill within them there is nothing they can't do. Being a member of Delta Sigma Theta Sorority Incorporated's sisterhood has been a guiding force in her representation of high goals within the organization and in her personal/professional life.