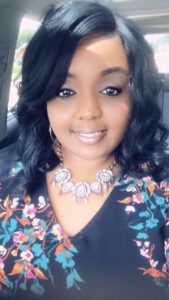 Chiketa Jiles was born in Fort Hood, TX, an Army installation, to Howard and Diane Jiles. Jiles grew up as an "army brat" and moved often during her father's 20-year military career. Her formative years were mostly spent in Texas, but she also had the opportunity to live on other Army installations in Alaska and Kentucky. As a teen, she and her family moved to Millington, TN where she attended and graduated high school. While in high school, she spoke to a counselor about her desire to become a computer programmer, and the counselor recommended pursuing a degree in computer science.
After researching several colleges and universities, Jiles decided to enroll at Jackson State University and majored in computer science. She earned a Bachelor of Science in Computer Science in 2005. After her undergraduate graduation, Jiles continued her educational studies at Strayer University and in 2012, earned a master's degree in Information Systems with a concentration in software engineering management. Her commitment to academic excellence led her to be recognized by Strayer University for holding the highest GPA of 4.0 in the entire Master of Information Systems graduating class.
With more than fifteen years of experience in information technology, Jiles began her career as a computer support technician, advancing to her current position as a developer. The last ten years of her career have been focused on Microsoft's web platform SharePoint, which she truly enjoys and has earned the distinction of being a SME (Subject Matter Expert). She has worked for several government clients including the U.S. Army, Navy, and Marines. Jiles has received several awards for her contributions to the respective programs in which she provides support.
In her free time, Jiles enjoys providing web support and design for non-profit and religious organizations. An avid learner, she continues to expand her knowledge of web technologies and finds new ways to develop solutions for her current client's projects.