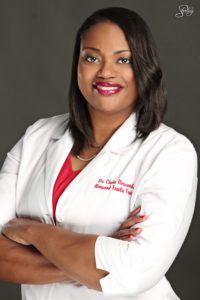 Dr. Chaka Norwood is a native of Mound Bayou, MS. She received her Doctor of Optometry from the University of Houston. She also holds a Bachelor of Science in Biology from Jackson State University and a Master of Public Health (Health Administration) from the University of North Texas Health Science Center.
For the past eight years, Dr. Norwood has been owner of Norwood Family Eye Care, LLC in Memphis, TN. Immediately after graduation, she took an employed position in a private practice for two years before opening Norwood Family Eye Care. She has also been employed at Well Child and is currently performing eye exams at Marshall County Correctional Facility. Norwood is also the optometrist for the North Bolivar Consolidated Schools.
Norwood is a member of the American Optometric Association and National Optometric Association where she serves on the board as Region III Trustee. She is also a member of the Mississippi Optometric Association and serves as a board member on Mississippi Vision Foundation. She is licensed to practice optometry in Tennessee, Mississippi and Texas.
While at the University of Houston, Norwood was a member of the American Optometric Student Association, Texas Optometric Student Association and the National Optometric Student Association where she held the position of president and secretary and received the National Optometric Student Association Officer of the Year Award and the 2010 National Optometric Student Association Scholarship Award. Dr. Norwood was also a Gold Key Optometric Honor Society member and served on the Graduation Committee.
Dr. Norwood's externship training including extensive eye disease diagnosis and treatment at Northeastern State University in Tahlequah, OK and Santa Fe Indian Hospital in Santa Fe, NM. When not caring for patients, she enjoys spending time with close friends and family, exercising, movie nights and traveling. She is a member of the JSUNAA Memphis Alumni Chapter.