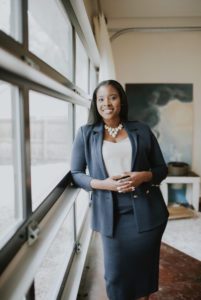 LaTasha Houston is a native of Jackson, MS, and a 2008 graduate of Jackson State University, where she received a Bachelor of Science in Mass Communications— Public Relations. She also holds a master's in public administration from Strayer University. While at JSU, she held several titles that included the President of the Delta Pi Chapter of Delta Sigma Theta Sorority, Inc.
Fueled by her passion for making a difference and empowering others, Houston turned a junior year internship into a full-time position with the Federal Bureau of Investigation (FBI) in Washington, DC. In her eleven years with the FBI, she has worked as an Executive Staff in the Director's Office; part of the FBI's Critical Incident Response Group (CIRG) Active Shooter Study Team; and served in other positions such as an Equal Employment Opportunity (EEO) counselor, just to name a few. Also, while working for the FBI, Houston spearheaded recruitment initiatives to help bring viable candidates from Historically Black Colleges and Universities (HBCUs) into the Bureau, and she is currently working for the FBI in Huntsville, AL.
In addition to her professional responsibilities, Houston is the author of "The Seven Year Promise," which is a self-help book that offers spiritual advice for its readers to follow on a range of topics such as unlocking your full potential, thriving in the face of failed plans, finding your true calling, and overcoming adversity. She is currently on tour conducting workshops titled "The Seven Year Promise Lab." In these workshops, she provides an interactive experience of her book, while sharing tools/lessons gained through her journey with others who are walking in their own journey. In addition to the book, she regularly releases similar content through her blog, Biblically Led Cornbread Fed.
Houston is the proud mother of two: Trace Alexander and Jordyn Joelle. When she is not wearing her Federal Government hat or working within the community, she can very easily be heard cheering for her two blessings (Trace and Jordyn) during football, taekwondo, dance, and other extracurricular activities they are involved in. Houston follows a JSU graduate legacy from her aunt and mom — Michelle and Dr. Rosella Houston. She shares this same passion for JSU with her cousin Tyesha Kidd and her sister Ma'kala Houston, who is a senior civil engineering major and a member of the Sonic Boom of the South J-Sette Dancing Squad. Houston is a member of Junior League of Huntsville and Toastmasters International.