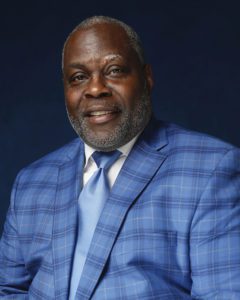 Dr. Dennis D. Williams is a native of Chicago, Illinois, and is the oldest child of 3 children and the only son, born to the late Evelyn and Frank Hall.
Dr. William's father emphasized "Once you are educated, nobody can take that away." This statement prompted him to aggressively approach education.  His primary education journey was in the Chicago public school system where he attended Oglesby Elementary and St. Leo Grammar Schools.  Later, he attended Lindblom Technical High School and graduated in 1978.  Dr. Williams was interested in attending a Historically Black College and University (HBCU), so he chose Jackson State University (JSU).
Hail Hail to Thee
Dr. Williams' aspirations in education began when he entered the halls of Jackson State University as a freshman.  He pursued a Bachelor of Science in Business Management and graduated from JSU in 1983.  In God's divine plan, his passion for the educational expertise began to soar. His career of service includes substitute teaching, teacher, assistant principal, coach, athletic director and mentor while receiving numerous awards for his athletic and academic accomplishments. He continued his matriculation and earned the Master of Arts in Teaching (MAT 2004), Specialist in Education Administration and Supervision (EdS, 2007), Doctor of Philosophy degree in Education Administration and Supervision (PhD 2012) and Specialist degree in Psychometry (EdS 2018).
Currently, Dr. Williams serves as Coordinator of the Masters of Arts in Teaching program (MAT), Adjunct Professor, Academic Advisor, Co-Pi for STEM STARS Teacher Institute and Director of Tom Joyner Foundation Teacher Quality Initiative (TQI) in the College of Education and Human Development.  He served as Teach Delta Region liaison/recruiter, Praxis I and II workshop facilitator for K-12 schools and universities.    He has also mentored, advised and taught hundreds of teachers while guiding them through the certification route.  Dr. Williams is experienced in Teacher Licensure primarily (Alternative Certification) and understands the requirements that lead to teacher certification, and is CEO of Williams Consulting.
Dr. Williams has grown to appreciate all the trials and blessings of God through his marriage to his college sweetheart and wife of over thirty years, Irene Johnson Williams.  They reside in Byram, Mississippi, and are the proud parents of three children:  Casey, Devin, and Mia (all graduates of JSU); and five grandchildren: Cassidy, Cayden, Peyton, Ethan and Noah.