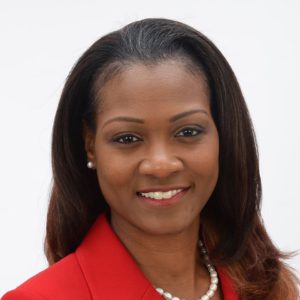 DarKenya Washington Waller attended undergraduate school at Jackson State University in Jackson, Mississippi, where she was a Spring 1995 initiate of Delta Pi Chapter of Delta Sigma Theta Sorority, Incorporated.   Waller is also a graduate of the University of Mississippi School of Law and earned a Master of Business Administration from Belhaven University. She currently serves as the executive director of Legal Aid Society of Middle TN and the Cumberlands, Tennessee's largest nonprofit law firm offering free civil legal services to low income and vulnerable families. As the chief executive officer of the organization, she supervises a staff of 45 attorneys in 8 middle Tennessee offices.
Before moving to Tennessee in 2008, Waller was a solo practitioner in Jackson, Mississippi, where she specialized in domestic law and real estate. She also worked with Chinn & Associates, PLLC, a boutique domestic relations law firm. Waller has worked with the Mississippi Attorney General's Office; Division of Medicaid and she co-established and ran Connect 5 Communications, a technology and communications company that represented clients such as the City of Atlanta, City of Jackson and the National Conference of Black Mayors.  Waller is licensed to practice in both Mississippi and Tennessee.  She joined the Legal Aid Society of Middle TN and the Cumberlands in 2008 and became the managing attorney of its Nashville office in 2010.  Waller maintained a family law practice with a special focus on victims of domestic violence.  In March 2018, Waller became the organization's first female and African-American Executive Director.
Waller lends her voice and platform to effect change all across the state of Tennessee.  She was appointed to the Indigent Representation Taskforce by the Tennessee Supreme Court, the Tennessee Governor's Criminal Justice Reform Investment Taskforce – Probation and Parole Subcommittee, the Tennessee Child Support Guideline Review Taskforce and the Nashville Mayor's Council on the State of Women. Waller was a 2011 member of the Tennessee Bar Association's Leadership Law Program for outstanding young lawyers and is a current member of the Leadership Middle Tennessee Class of 2020.
Waller is a fellow of the Nashville Bar Foundation and a member of the Civil Council of the National Association of Legal Aid and Defenders Association (NLADA). She serves on several Boards including the Nashville Bar Association, the YWCA of Nashville and Middle Tennessee, the Tennessee Alliance for Legal Service and the Nashville Coalition Against Domestic Violence where she is a former Board Chair.  She has been recognized as a 2016 Woman of Influence, 2018 Best of the Bar and a 2019 Most Admired CEO by the Nashville Business Journal. She is also a 2015 and 2020 Cable Athena Award Nominee. She was recognized by the Nashville Post Magazine in 2019 and 2020 as an NCharge Leader in the Legal category and graced the cover of the September 2019 issue of NFocus Magazine's Model Behavior, recognizing local philanthropists and leaders.  In 2020, she received the Napier-Looby Bar Foundation 2020 Justice A.A. Birch Outstanding Service Award.
Waller has held leadership positions with the Lawyers Association for Women – Marion Griffith Chapter, the Minerva Foundation, Inc. and the Nashville Alumnae Chapter of Delta Sigma Theta Sorority, Inc. She has served on the Tennessee State Domestic Violence Coordinating Council and as Chair of the Family Law Task Force of the Tennessee Alliance for Legal Services.  She is a frequent speaker across the state of Tennessee on the topic of Domestic Violence training judges, clerks, commissioners and the public on the impact of domestic violence.  She is most proud of her work initiating the Civil-Legal Advocate Program which provides free legal representation to victims of Domestic Violence on the Order of Protection dockets in Davidson County, TN.  Through this project, she has recruited and trained numerous attorneys and law students to ensure that high risk victims do not have to stand in court alone.  As the daughter of two Alcornites, including an NFL ProBowler, one of the titles Mrs. Waller holds most dear is serving as the first Miss Capital City Classic, formerly known as the "Soul Bowl".
Waller is married to the love of her life, retired police officer and Omega Psi Phi Fraternity, Inc. lifetime member, Sean Waller.  They share 5 children: Tyler, Dylan, Jordyn, Sydnie and Shaun and two grands, Amari and TaeLynn.