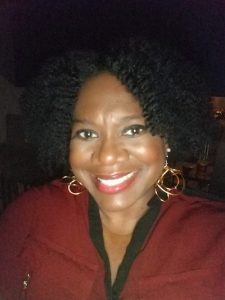 Gladys N.A. Hamilton was born and raised in Gulfport, MS.  She is a 1993 biology graduate of Jackson State University (JSU).
Hamilton was highly active while enrolled at JSU where she became a member of the Delta Pi Chapter of Delta Sigma Theta Sorority, Inc. in the Spring of 1993. As a perspicacious student, she represented JSU during the 1993 Honda All Star Challenge National Championship. Upon graduating from JSU, Hamilton headed to the University of Iowa in Iowa City, Iowa and graduated in 1999 with a master's degree in Preventive Medicine and Environmental Health with a concentration in Epidemiology. Afterwards she headed to Washington, DC where she currently resides.
Professionally, Hamilton is a Clinical Supplies Project Manager with PRA Health Sciences, Inc. which is a contract research organization.  She works daily on global oncology clinical trials as part of a team dedicated to providing investigational medication to populations affected with cancer.  Hamilton has worked in the pharmaceutical clinical supply arena for almost 20 years where she has managed all aspects of the clinical supply chain for phase I to phase III clinical trials for various disease indications.
In the community, Hamilton is an active member of the Greater Washington, DC Area Alumni Chapter of the Jackson State University National Alumni Association, Inc. where she has held several positions such as past president, assistant secretary, and chair of the Community Outreach Committee.  Hamilton faithfully contributes to the JSUNAA chapter with membership engagement, community partnership and scholarship fundraising including TJAM which is a scholarship collaboration for Mississippi HBCUs: Tougaloo College, Jackson State University, Alcorn State University and Mississippi Valley State University.
Hamilton is also a member of The Federal City Alumnae Chapter of Delta Sigma Theta Sorority, Inc. where she currently serves as Assistant Financial Secretary and has held previous positions in the chapter on various committees.
Hamilton is a board member for Maryland Community Connection, an organization that supports individuals with developmental disabilities in the community.  She has provided countless program development, volunteer hours and monetary resources to various charitable causes and initiatives including the FCAC STOMP D.A.T Drugs, Alcohol and Tobacco Youth Project, the FCAC Annual Community Day which provides comprehensive awareness and empowerment to economically disadvantaged families within Washington, D.C. She consistently promotes healthy lifestyles through her involvement and participation with Mayor Muriel Bowser's Annual New Year's Day 5K, The DC Metro HBCU Alliance Annual 5K and the NBC4/Telemundo Health Expo which aligns with the FCAC Physical and Mental Health initiatives. She is a charter member and an ambassador for the Smithsonian National Museum of African American History and Culture and a member of the historic Alfred Street Baptist Church in Alexandria, VA., Gladys supports several ministries at her church, including the ASBC Mississippi Scholarship Fund and the HBCU College Festival which is the largest of its kind in the world.
Gladys N.A. Hamilton is the oldest child of Daffena E. Hamilton and the late Albert L. Hamilton, Sr.