Georgvell Christi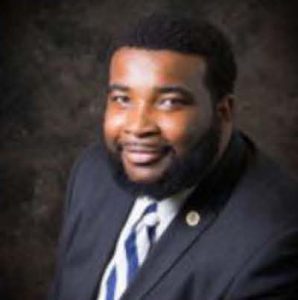 an, a native of Chicago, Illinois, earned a Bachelor of Science degree in computer science from Jackson State University in May of 2005. While at Jackson State, he also minored in mathematics which he attributes to his critical thinking and analytical skills. Both of his parents, the late Cleo Harris and George Christian, Jr., both graduated from Jackson State University as well. He knew at an early age he too would be a proud Jacksonian one day. He was an active member of several student organizations on campus where he held various leadership roles. Some of those organizations included but were not limited to the W.E.B. Dubois Honors College, Student Government Association (SGA), Tiger P.R.I.D.E. Connection, Alpha Lambda Delta National Honor Society and the National Society of Black Engineers.
Christian joined State Farm® in 2003 as a summer intern before starting full-time in 2005 as a systems analyst at the corporate headquarters in Bloomington, Illinois. After working a little over a year in the Systems Department, he was selected as the team lead where he served as the liaison between leadership and his team. In 2008, he assumed the role of field fire catastrophe claim representative where he was able to travel across the country to service customers and help them recover from the unexpected. Christian served on the Catastrophe Services Diversity and Inclusion Council, leading diversity and inclusion initiatives and efforts for his section. He held several informal leadership roles as he aspired to be promoted to a formal leadership role within the organization.
He assumed the role of license, risk, and compliance supervisor in 2014 where he helped start up a new department that handled licensing needs for associates enterprise wide. He led several initiatives while in this role and was recognized for increasing employee engagement and morale within the department.
On January 31, 2019, Christian resigned from State Farm® and in February of 2019 he joined National Lloyds Insurance Company, a subsidiary of Hilltop Holdings Inc., as a senior executive. His role includes leading the Legal, Compliance and Licensing Departments. In October of 2019, he was asked by his CEO to join a team of five other senior executives to assist with the merger and acquisition of the organization. This team was successful in assisting with the sale of the organization to Align Financial Holdings, LLC, a San Diego, Calif. based company, in an all-cash transaction valued at approximately $150 million.
He earned both his Associates in General Insurance (AINS) and Chartered Property Casualty Underwriter (CPCU) designations in 2016 from The Institutes – Risk and Insurance Knowledge Group, Philadelphia, Pennsylvania.
In addition, Christian serves as the second vice president for THRIVE Young Alumni Network under the auspices of the JSUNAA. He also serves in a variety of leadership roles within the community, including the Dallas/Fort Worth Chapter of Jackson State University National Alumni Association (JSUNAA), Dallas (TX) Chapter of Kappa Alpha Psi Fraternity, Inc. and the Neal F. Simeon High School National Alumni Association. He recently established the "Cleo Denise Harris Memorial Endowed Scholarship" at Jackson State University to honor the legacy of his mother and to give back.
In his free time, Christian enjoys spending time with family and friends, traveling and attending Jackson State football games. He is a member of the Friendship West Baptist Church in Dallas, Texas. One of his favorite quotes that he lives by each and every day is by the late Rev. Dr. Martin Luther King Jr. and it states "The ultimate measure of a man is not where he stands in moments of comfort and convenience but where he stands at times of challenge and controversy."