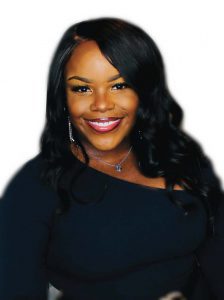 Amber Champion is a native of Memphis, Tennessee and graduate of Hillcrest High School. She graduated summa cum laude from Jackson State University in 2018 with a Bachelor of Business Administration degree in Accounting. During her matriculation at JSU, she was honored to become a 2018 Jacksonian Award of Distinction honoree, 2018 Career Closet Ribbon-Cutting Commencement Ceremony Speaker, as well as a Memphis Rotary Club Central Scholarship Recipient from 2014 to 2019. Over the course of her time at JSU, Champion held numerous "Scholars for Dollars" financial literacy classes to educate high school students on how to graduate college debt free, maximizing your time as a student, earning scholarships while learning, and exploring various opportunities to fund your post-secondary education. After graduating from JSU, Champion went on to obtain her Master of Science degree in Accounting from the Kelley School of Business at Indiana University in Bloomington, IN. She is a Risk Assurance professional in the Business Advisory Services practice of Ernst & Young LLP based in Atlanta, Georgia.
Champion's primary experience consists of providing IT audit assurance and System and Organization Controls (SOC) reports to companies in various industries, which enables companies to feel confident that they are operating in an ethical and compliant manner. Champion has spent the majority of her time on SOC 1 report where the focus of a service organization's controls is likely to be relevant to an audit of an entity's financial statements. She has also engaged in preparing SOC 2 report where a comparison of a service organization's controls related to operations and compliance are analogized in relation to security, processing integrity, confidentiality and privacy.
Champion is actively involved with the Risk Advisory practice as one of the editors and publishers of the weekly ATL High Five Newsletter highlighting various accomplishments, announcements, and celebrations for people within the Atlanta office. Champion is also an appointed coordinator in her professional community family, and plans and organizes events, and creatively collaborates ideas for her colleagues to stay connected. She is also a dedicated member of the Black Professionals Network where she gets the opportunity to promote the advancement, professional development, recruitment, and retention of African Americans within Ernst & Young by emphasizing diversity, cultural awareness, education and professional excellence.
Champion is driven to serve through utilizing her accounting background in addition to her interpersonal skills to continue to further the growth of the number of working African American professionals in Corporate America. She continues to put leadership at the forefront of her career and is an active member of the National Association of Black Accountants (NABA). Recently, Champion moderated a NABA Leadership Panel discussion with college juniors and seniors with emphasis on diversity in the workforce. She has also recently been selected to serve as a representative of the EY LAUNCH Program where she will continue to encourage underclassmen underrepresented students on college campuses to consider a major and a career in business and professional services. Given the importance of attracting diverse candidates to the accounting profession, Champion strives to create strong relationships among all professional individuals, build a strong professional support system, and encourage individuals to be the best version of themselves.