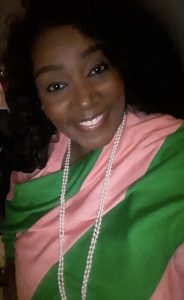 Eboni Rideout is a proud 1998 graduate of Jackson State University with a Bachelor of Arts in political science/pre-law. After graduation she received a master's in criminal justice administration from Tennessee State University in 2002, and later earned a certification/license in Secondary Education with an emphasis in Government (Grades 7-12) from Union University.
Rideout chose Jackson State University because she was looking for a 'home away from home' that would cater to her educational, personal and social needs as an individual and collectively.  Also, while watching Motown 30th Anniversary Special, she saw the infamous, "Sonic Boom of the South" open the awards show as the featured band. It was her first time ever seeing or hearing about Jackson State. The majority of her family has ties to the "other Tiger" school in Nashville, TN. She recalls, "My family just knew that I would be attending 'that' school but after watching that show, I immediately knew that I would take my academics and talents to this University." During her freshman year, Eboni marched in the THEE "Sonic Boom of the South" (1992), where she played the flute and piccolo. She was also a four year member of the Insatiable Modeling Squad (Brick House) and was an active member of the Tennessee Club.
Reminiscing on her undergraduate experience, Rideout said, "The faculty and staff in the Political Science department nurtured me and gave me the solid foundation on which I stand today. Every member of the faculty and staff in that department created a sense of family, provided learning and volunteer opportunities and showed us students how to build connections with key alumni and government officials."
Rideout love for her hometown and all things history led her back to Memphis, Tenn. and into a 15-year successful educator. She is currently employed as a Government and Economics/AP Government Economics instructor with Shelby County Schools at Memphis' historic Melrose High School. She has also held numerous leadership positions including department chair, learning coach, master/lead teacher, member of Principal Advisory Committee and new teacher mentor. She also serves as an adjunct instructor for Dual Enrollment, ACAD and Criminal Justice at Southwest TN Community College. 
Rideout is an active member of the Memphis Alumni Chapter and a successful entrepreneur as well, owning three businesses in the beauty/hair care industry. She recently launched, You Nailed It (www.younailedit.org), a nail polish and dipped powder line; Facial Expressions by Eboni and HairapyTherapy (www.hairapytherapy.net) specializing in hair care for women of color and a beard line for men.