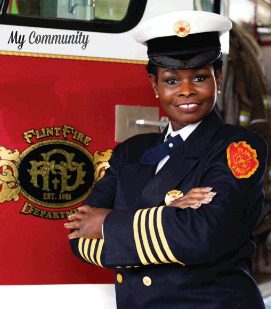 Carrie Edwards-Clemons, Deputy Fire Chief Flint Fire Department, lives a life of purpose through her unwavering dedication of saving lives, helping others, and keeping her community safe.
Deputy Edwards-Clemons' collegiate path includes Jackson State University, University of Michigan and Columbia Southern University where she earned a Bachelor of Arts degree and Masters of Public Administration. Her dedication to JSU never diminished. She is an active member of the JSU National Alumni Association, Inc. where she serves concurrently as vice president and chair of Student Recruitment and Program Planning.
Edwards-Clemons began her career with Flint Fire Department in 1999 as a firefighter trainee. Over her career, she has served in various roles including, suppression officer, building inspector, code enforcement officer, firefighter instructor, paramedic EMS instructor coordinator, and emergency vehicles operator instructor. Also, as a grant writer for firefighters and community development block grants, she assisted with procuring more than $22 million for the department.
In 2018, Edwards-Clemons was appointed Deputy Fire Chief for the City of Flint, Michigan. She is the first female to hold that rank and the highest-ranking female in the department's 165-year history! Recently, she was elected as the first female president of the International Association of Professional Firefighters.
Deputy Edwards-Clemons' work has garnered many local and state commendations and service awards that include the IAPFF Presidential "Firefighter of the Year" Award for the Flint Fire Department, and the State of Michigan, honored her in a "Special Tribute" for her many contributions.
Edwards-Clemons' passion is community service. She coordinated with 'No Child Left Behind" and "Climbing for Life" safety initiatives. She also provided smoke detectors, 2nd story escape ladders, CO detectors, safety training, American Red Cross and First Alert for Flint Community Schools.  Amid COVID 19, she continues to volunteer with non-profit organizations to fight hunger and secure available services for senior citizens.
A JSU alumnae essential worker who lives a life purpose, Deputy Edwards-Clemons holds membership in numerous career related and community organizations. She is a member of Links, Inc., mentors for Bigs in Blue, Big Brothers, Big Sisters of America, and coordinates programs with the Michigan State Fire Inspectors Association.