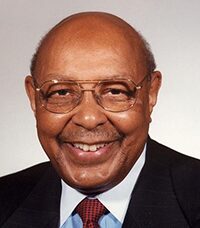 On Tuesday, August 18, 2015, we lost a leader in the support for educating underrepresented minorities, Congressman Louis Stokes. Congressman Stokes' mother told her sons "the idea that work with your hands is the hard way of doing things. I told them over and over to learn to use their heads" [1a,b]. The Louis Stokes Mississippi Alliance for Minority Participation (LSMAMP) program continues the legacy of Congressman Stokes by instilling the importance of developing minds toward earning BS and PhD degrees in the areas of Science, Technology, Engineering, and Mathematics (STEM), and engaging in innovative and rewarding STEM careers.
The following brochure contains pictures and information about our Bridge to the Doctorate (BD) Fellows who earned their PhD degrees and are examples of the impact and the legacy of Congressman Stokes. Through the BD program, they will continue the cycle of educating underrepresented minorities toward STEM terminal degrees. Congressman Stokes, we thank you for your commitment toward making a positive impact on the lives of our students through STEM education and research.
For more information about the life of Congressman Stokes, please go to History, Art & Archives United States House of Representatives: http://history.house.gov/People/Detail/22311?ret=True.
Reference
a. David Hess, "She Urged Sons 'To Be Somebody,'" 16 December 1968, Christian Science Monitor: 6.
b

.

http://history.house.gov/People/Detail/22311?ret=True

(accessed August 21, 2015).
Please see 4 page brochure dedication to Congressman Louise Stokes
Bridge to Doctorate Brochure Dedication