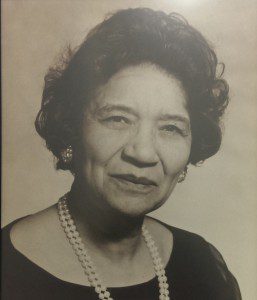 Biography/History*
Dr. Cleopatra Davenport Thompson was born in Egypt (Chickasaw County), Mississippi to Alonzo and Lizzie Ann Davenport, where she grew upon a farm with nine other sisters and brothers. Her father was a teacher, who spent 48 years in the Mississippi Public Schools. Her mother was a devoted homemaker, church leader, and fraternal organizational leader. Later, her family moved to Jackson, Mississippi where she joined the Farish Street Baptist Church, and served on the Deaconess Board, Trustee Board, President of the Women's Missionary Society, and Chairman of the Scholarship Committee.
Dr. Thompson received the bachelor degree from Clark-Atlanta University and doctoral degree from Cornell University. Having done graduate study at the University of Chicago and George Washington University, she further enriched her education through post-doctoral study at the State University of Iowa. Dr. Thompson professional career included services as a teacher-professor, supervisor and administrator in schools, colleges and universities in Mississippi, New York and Liberia, West Africa, Walthall County Training School, Okolona College, Jackson State University, Alcorn State University, Tougaloo College, Meridian Residence Center, Cornell University and the University of Liberia.
Furthermore, she was able to effectively merge her private life with her professional career. She was the wife of H. M. Thompson, Associate Professor of Mathematics at Jackson State College. As well as the mother of two children, a daughter, Mary Elizabeth, Head of the American Studies Department at Los Angeles City College in California, and a son H. M. Thompson, who is the Director of Data Processing for the Anacostia Project of the Washington, D.C. Public Schools.
Dr. Thompson joined the Jackson State University faculty in 1946 where she organized and became Director for the Jackson State College-Meridian Residence Center Meridian, Mississippi. The Center was established to offer both pre-service and in-service educational opportunities for the upgrading of the teaching profession. After equipping, organizing and staffing the Meridian center (1946-1953), Dr. Thompson requested a transfer to the main campus in order to join her husband who was a teacher and coach at Lanier High School.
From 1956-1957 she served as Associate Professor of Education. In addition, she was an Advisor for elementary education majors, sponsor for the junior class, and Advisor for the Mabel Carney Chapter of the student National Education Association. She was one of the Co-Founder of the MTA-NEA student chapter of the National Education Association, and served as the first State Advisor for the organization, with the first President of the Association chosen from Jackson State University. Through Dr. Thompson's efforts, funds were secured from the State and National Association to send our President to both the Student Education Association and the National Education Association-the first time a black student from Mississippi had attended these meetings.
In 1957, Dr. Thompson was granted a leave-of-absence to complete her studies for a Doctoral Degree at Cornell University where she had been granted as Assistantship in the Department of Child Development and Family Relationships. Her Doctoral Dissertation entitled, "The Jackson State College Graduate in American Society: A follow up Study of Graduates from 1944-1954", this made a distinct contribution to the University.
Dr. Thompson returned to the University in 1961, as Professor of Education and Psychology. She served as chairman of the committee to organize innovative curriculum materials for courses offered in Psychology and launched a Pilot Project of "Team Teaching" such courses; meanwhile, she resumed her duties as sponsor of the Junior Class, and Co-Sponsor of the Mabel Carney Chapter of the student NEA.
Another leave-of-absence was granted from 1964-1965, to serve as a visiting Professor of Psychology and Education at the University of Liberia, West Africa. She became founder-editor of the Williams V.S. Tubman Teachers College Bulletin that received international recognition. Excerpts from the Bulletin were published in the ECHO and translated into five languages to be distributed by the World Confederations of Organizations of Teaching Profession; meanwhile, she worked as a volunteer at YWCA, the Nonracial Maternity and Children's Hospital, and rendered consulting services to both religious and educational groups.
After returning from Africa in 1965, Dr. Thompson was appointed Chairman in the area of education, and was named Dean of the School of Education, and Technical Studies in 1968 under the re-organization of the administrative structure.
Dr. Thompson's extensive travel gave her keen insight into various cultures, world affairs, and international relations through participation and leadership roles in world assemblies and travel-study tours to forty-six countries on six continents. She served on local, state and educational committees, councils, commissions and boards, including Jackson City Planning Board, Mississippi Commission on Judicial Performance, and the international Council on Education for Teaching.
Additionally, she enriched her-development through affiliation with such professional organizations as the American conference of Academic Deans, academic Deans of Southern States, Southern Conference of Deans and Vice Presidents, American Association of University Professors, Association of higher Education, Association for Supervision and Curriculum Development, Mississippi Council on Early Childhood Education (charter Member), Mississippi College/University Consortium for International Studies, American Association of Colleges for Teacher Education, Council of Associated Organizations for Teacher Education, Southern Council on Teacher Education, Association of Teacher Educators, Mississippi Association of Educators, and the National Education Association. She was affiliated also with Phi Delta Kappa and Pi Lambda Theta honor societies.
The author of three books her articles appeared in several professional publication field and a civic, social and religious groups. Being people-oriented and civic minded, she involved herself in and made distinguished contributions to such organizations as the Jackson (Mississippi) YWCA, Mary Church Terrell Literary Club, American Association of University Women, League of Women Voters, National Council of Negro Women, Mississippi Humanities Council, Lefleur's Bluff Chapter of Links, Inc., Delta Sigma Theta Sorority, Inter-Alumni Council of Mississippi State Universities; and the Mississippi, Southeastern, and National associations of Colored Women's Clubs, Inc.
Her concern for education, and particularly her love for Alcorn State University, led her to spearhead the organization of the Alcorn State University foundation, the value of which presently is more than three million dollars. In addition to donating family funds, she provided the leadership in procuring additional funds to establish a chair in Mathematics at Tougaloo College in honor of her late husband, H. M. Thompson. Also, she made generous financial provisions for Alcorn State University through insurance payable to the University upon her demise.
Dr. Cleopatra Thompson was the recipient of more than one hundred awards and citations, including Alcorn State University's first Distinguished Achievement Award, Alumnus of the Century Award (from the Association of Land Grant Colleges), and charter member of the University's Hall of Honor.
She was awarded the Clark-Atlanta University President's Achievement Award and the University's Distinguished Alumni Citation of the Year Award (from the National Association for Equal Opportunity in Higher Education). She will receive posthumously on May 17, 1992, the honorary degree of Doctor of Humane Letters from Tougaloo College. Her biography appears in seven national and international yearbooks.
*Copyright Warning: This material may be protected by Copyright Law (Title 17 U. S. Code) This biography was accessed online from the JSU Margaret Walker Center Archives and Record Division. Paragraphs were reformatted to accommodate Web viewing, but the content and/or wording was not changed.