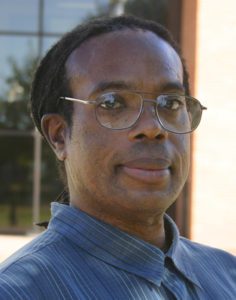 Instructor of English
Email: lawrence.sledge@jsums.edu
Phone: 601.979.1478
Office Location: Dollye M.E, Robinson Liberal Arts Building, 4th floor, Office #413
DEGREES:
B.A. in Interdisciplinary Humanities/Music, Tougaloo College
M.A. in English/Professional-Technical Writing, The University of Memphis.
RESEARCH INTERESTS:
Technical writing, and the sublime in literature.
Composing fiction that deals with the sublime and listening to music and performing music that has characteristics of the sublime.
Professional/Technical Writing
The therapeutic/Inspirational Power of Music|
Student-Centered Teaching Strategies and Theories
COURSES TAUGHT:
Professional-Technical Writing
World Literature
English Composition
Advanced Grammar (at another school)
PROFESSIONAL MEMBERSHIPS: Mississippi Philological Association, Mississippi Council of Teachers of English (past president)
RECENT PUBLICATIONS AND/OR CREATIVE WORKS:
"Miss Zene's Flowers" published in POMPA 2018 Volume 35 pages 68-74.
Completed an e-Book The Global Relevance of Technical
Communication: An Individual Documents Approach.
"Developing a More Student-Sensitive Approach in the Liberal Arts: Enlightening the Career-Focused Student" Presented at the 2016 Conference on the Liberal Arts: Liberal Arts Education in the 21st Century (set for publication as a chapter in a book about the conference).
Recently submitted a chapter story "Coming into Realization" for publication.
Places Taught:
The University of Memphis (adjunct) [1987-1988]
Tennessee Technological University [1988-2000]
The University of Mississippi [2000-2001]
Rust College [2001-2003]
Community Academic-Enhancement Program (Grenada, MS) [2003-2006]
Jackson State University [2006-Present]