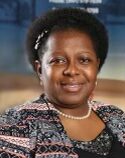 Dean, Division of Graduate Studies
Professor of English
E-mail: preselfannie.w.mcdaniels@jsums.edu
Phone: 601.979.4321
Office Location: 1st Floor, Administration Tower
DEGREES
Ph.D., English, Louisiana State University
M.A., English, Mississippi College
B.A., English, Jackson State University
RESEARCH INTERESTS
20th Century American and African American Literature, the Novel
United States Women Writers
African American (Vernacular English)—AAVE/AAE Studies
Service Learning and Portfolio Pedagogies
COURSES TAUGHT
Undergraduate Level:
Composition and Literature (ENG 111, 112, 111X, 112X-Honors)
Classical Mythology (ENG 219)
Grammar and Composition (ENG 303)
Survey of American Literature (ENG 321, 322)
Language Arts in Elementary Schools (ENG 401)
Language Arts in Secondary Schools (ENG 402)
Senior Seminar (ENG 495)
Graduate Level:
Survey of Grammar Principles (ENG 503)
American Fiction after 1900 (ENG 521)
Seminar in Writing Problems (ENG 622)
PROFESSIONAL MEMBERSHIPS
College Language Association (Chair, HBCU Committee, 2016- ; Secretary, 2009-2015)
Mississippi Philological Association
Mary Church Terrell Literary Club (Corresponding Secretary, 2016- )
RECENT PUBLICATIONS AND/OR CREATIVE WORKS
Publications (Selected, 2011-2021)         
BOOK(S):
Meeting Points in Black/Africana Women's Literature. Trenton, NJ: Africa World Press, 2016. (Co-editor, with Helen O. Chukwuma)
JOURNAL ARTICLES/BOOK CHAPTERS:
"Accountability, Customization, Sustainability and Productivity: Reflection on Our Liberal Arts Faculty Writing Boot Camp." Redefining Liberal Arts Education. Ed. Robert Luckett. Jackson: Univ. Press of Mississippi, 2021. (With Rico Chapman, Monica Flippin Wynn, and Byron D. Orey.)
"Exploring Innuendos and Symbols in Selected Songs by the Artist Formerly Known as Prince." Black Magnolias: A Literary Journal (Special Prince Issue) 8.3: (2020): 138-150. (With Monica Flippin Wynn)
"Mother Work in Toni Morrison's Song of Solomon." Meeting Points in Black/Africana Women's Literature. Eds. Helen O. Chukwuma and Preselfannie E. Whitfield McDaniels. Trenton, NJ: Africa World Press, 2016. 217-236.
"Questions of Quality and Class: Perceptions of Hierarchy in African American Family-focused Reality TV Shows." Real Sister: Stereotypes, Respectability, and Black Women in Reality TV. Jervette R. Ward, editor. New Brunswick, NJ: Rutgers Univ. Press, 2015. 121-138.
"Completing the Journey of Reflection, Healing, and Interpretation: A Survivor's Examination of Jesmyn Ward's Salvage the Bones." POMPA: Publications of the Mississippi Philological Association 31 (2014): 188-202.
"Undergraduate and Graduate Level Perspectives: A Pedagogical Examination of the Meeting of Service-learning and Instructional Engagement in Communication Disciplines." International Journal of Humanities and Social Sciences 4.8 (June 2014):  11-21. (With Monica G. Flippin Wynn and Kashelia J. Harrion)
"Creating a Legacy of Disconnection: Colorism and Classism in Oprah Winfrey Presents: The Wedding." Presenting Oprah Winfrey, Her Films and African American Literature. Tara T. Green, ed. New York: Palgrave-MacMillian Publishers, 2013. 79-104.
"Pre-Service Teachers' Attitudes towards Students' Use of African American English." The Researcher: An Interdisciplinary Journal 26.2 (Summer 2013): 41-58. (4th Author, with Brandi Newkirk-Turner, Melody Cooper Williams, and Tracy Harris) Special Issue: Undergraduate Research.
"When Ethnicity, History, and Parenting Collide: Mothering Understood in Amy" Tan's The Kitchen God's Wife and Christina García's Dreaming in Cuban." Race and Gender in 20th Century Literature. Patsy Daniels, ed. New Castle upon Tyne, UK: Cambridge Scholars, 2013. 213-239.
"Spiritual and Material Journeys to Self and Truth: Making Song of Solomon and Brown Girl, Brownstones Relevant in the Modern Classroom." Black Magnolias Literary Journal 6.4 (Winter 2012- 2013): 33-39.
"African American Students Learn by Serving the African American Community: A Jackson State University Example of 'Challenging Minds and Changing Lives.'" Reflections: A Journal of Writing, Service-Learning, and Community Literacy 10.2 (Spring 2011): 108-135. (Lead Author, with Kashelia J. Harrion, Rochelle Smith Glenn, and Gisele Gentry)
"His Politics, His Mississippi, and His God: Exploring Thematic Schemata in the Poetry of C. Liegh McInnis." Journal of Ethnic American Literature 1.1 (2011): 166-178.