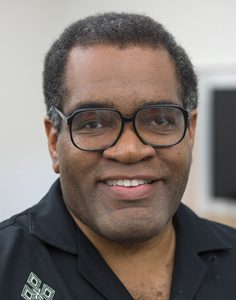 Assistant Professor of French
Email: huie.t.cunningham@jsums.edu
Phone: 601.979.2868
Office Location: Dollye M.E, Robinson Liberal Arts Building, 4th floor, Office #442
DEGREES
Ph.D., Romance Languages. University of Missouri, Columbia 2014
M.A. Foreign Languages and Literatures and ESL Southern Illinois University at Carbondale,
2003
B.A. Physiology. Southern Illinois University at Carbondale, 1990
RESEARCH INTERESTS
Eighteenth and Nineteenth Century French Literature
Literary Criticism and Cultural Studies
The Short Story
Adult Second Language Acquisition
COURSES TAUGHT
French 101, 102, 201, 202, 213, 230, 231, 320, 321, 422, 430, 431 and graduate level French coursework, English 436 (Literary Criticism)
English 505: Seminar in Literary Criticism
PROFESSIONAL MEMBERSHIPS
American Council for the Teaching of Foreign Languages
American Association of Teachers of French
PUBLICATIONS: LITERARY ANALYSIS AND CULTURAL STUDIES
"When Ourika Discovered She Wasn't White: A Lacanian Analysis of Romantic Ennui in Claire de Duras's Ourika," The French Review, vol. 90 no. 4 May 2017 pp 17 – 27
Book Review: Tropics of Haiti: Race and the Literary History of the Haitian Revolution in the Atlantic World, 1789 – 1865 by Marlene Daut, L'Esprit Créateur Spring 2016 vol. 56 no. 1 pp 146 – 147.
Book Review: Free and French in the Caribbean: Toussaint Louverture, Aimé Césaire and Narratives of Loyal Opposition by John Patrick Walsh, Journal of Haitian Studies, Fall 2014 vol. 20 no 2 pp 213 – 216.
Book Review: Edwidge Danticat: A Reader, ed. Martin Monro, Journal of Haitian Studies Spring 2013 vol. 19 no. 1 pp 311 – 313.
PUBLICATIONS: SECOND LANGUAGE ACQUISITION, METHODOLOGIES AND MATERIALS
Text Reviewer: Encore: Niveau intermédiaire. First edition by Lair, Vanpatten, Weber-Fève and Wong. 2017
Book Review: Controverses, Third Edition by Oukada, Larbi, Dider Bertrand and Janet Solberg. The French Review (May 2016) vol. 89 no. 4 pp 294 – 295
Text Reviewer: Interaction: Langue et Culture, 8th and 9th editions by St, Onge, Susan, Roland St Onge and Scott Powers.