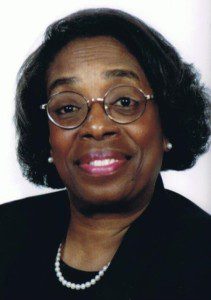 Neari Francois Warner, Ph.D.
Visiting Professor
EPhD in Urban Higher Education
1230 Raymond Road, Box 2000
Jackson, MS 39204

JSU Box 17209
Jackson, MS 39217

Scholarly Publications of Dr. Warner
Neari Francois Warner, a retired Professor of education, serves as visiting professor and research coach with the Executive PhD Pro¬gram at Jackson State University. She earned the B.S. degree from Gram¬bling State University, the M.A. degree from Atlanta University, and the Ph. D. degree from Louisiana State University.
She served as Acting President of Grambling State University from January 2001 to June2004, making her the first female to head this historic university. She also served GSU as Provost and Vice President for Academic Affairs, Vice President for Development and University Relations and Interim Vice Presi¬dent for Student Affairs. Prior to these experiences, she spent twenty-six years at Southern University at New Orleans where she served as Dean of the Junior Division, Director of the Upward Bound Program and Co¬ordinator of TRIO programs.
She has been a Nissan/ETS fellow and has served terms on the Congressional HBCU President's Task Force, the Commission on Colleges of the Southern Asso¬ciation of Colleges and Schools and the Louisiana Endowment for the Humanities.