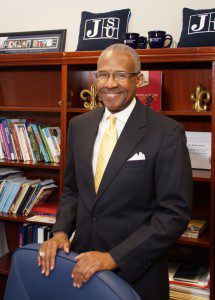 Walter A. Brown, Ed.D.
Executive Director and Professor
EPhD in Urban Higher Education
1230 Raymond Road, Box 2000
Jackson, MS 39204

JSU Box 17209
Jackson, MS 39217

(601) 979-2434 (office) (601) 979-9213 (fax) walter.a.brown@jsums.edu
Faculty Student Refreed Scholarly Presentations
Dr. Brown joined the faculty of the Executive PhD Program (EPhD) in Fall 2006. A native of Maryland, he received his EdD in Higher Education from the George Washington University, Washington DC in 1995 and specializes in higher education finance, strategic planning and higher education administrative issues. Dr. Brown teaches higher education administration and theory, higher education futures and strategic planning and finance of higher education.
Prior to joining the EPhD program, Dr. Brown was an assistant professor of higher education at the George Washington University, Instructor of Finance at Bowie State University Bowie Maryland, and Program Director at the University of the District of Columbia in Washington DC. He transitioned into higher education in the late 1980s after a career in the private sector working for three fortune 100 New York corporations in the areas of finance and str.tegic planning (Bank of New York, Avon Products and PepsiCo Inc.) He also worked on Capitol Hill for the Committee on the Budget, United States House of Congress.
In his current role as Executive Director and Professor of Higher Education, Dr. Brown has successfully chaired in excess of twenty dissertations, advises a minimum of five doctoral students per academic year, edits the National Association of Student Affairs Professional Journal and directs the current and long term administrative activities of the EPhD Program. In addition, he serves as Chair of the University Graduate Curriculum Committee and is a member of the university Internal Review Board (IRB).
Education
B.A. (Business Administration) Morgan State University,
M. B. A (Finance) Atlanta University
Ed.D, (Higher Education Administration) The George Washington University
Areas of Expertise
Higher education finance, strategic planning and administrative issues within higher education.
Research Interest and Current Projects
Dr. Brown's primary research interests address the financial management of public and private four year institutions. The perspective is taken from those holding mid-level to senior-level positions in the administrative and academic areas of public/private four-year institutions. This is accomplished by: (1) Providing an economic prospective of how the financing of higher education is juxtaposed with the economic cycle, (2) Identification and analysis of public and private revenue sources at the Federal, State and Local levels, (3) Analysis of tuition and student financial aid as a source of revenue, (4) Review of university sales and services as a source of revenue, (5) Identification and analysis of university expenditures, (6) Analysis of the accounting principles in relationship to its importance to the university budget process, (7) Exposure to university financial methods and practices, (8) Formation and implementation of university, department and program budgets, (9) Exposure to university debt financing options, (10) Exposure to university development activities and impact and (11) Exposure to endowment funds management.
Dr. Brown's secondary research interest is strategic planning. The need to understand, through empirical evidence, the process and possible outcomes from the use of strategic planning in higher education environments may be critical to the sustainability of many public and private four-year institutions. In addition, Dr. Brown addresses various issues in higher education administration.
Selected Publications and Conference Presentations
Refereed Publications
Brown, W. A. (2011) Financial Realities at HBCU: Issues and Observations. In Johnson, B (Eds.), Curators of the Legacy: Exploring the role of faculty and staff and their interactions with students. Charlotte, NC: Information Age Publishers (Spring 2012)
Tchounwou, M. M. & Brown, W. A. (2011) The perception of Minority faculty on the under-representation of minorities in science, technology, engineering and mathematics fields in higher education. Journal of the National Technical Association 81 (1)
Brown, W.A.,Futrell, M, Gray, B. C (2011) The Legacy of Martin Luther King Jr.: Implications for African American students in higher education. ICBCHE Journal 26 (1).
Gray, B. C. & Brown, W. A (2011). Correlation between gender and health promoting behaviors among African American college students. ICBCHE Journal 26 (1).
Brown, W. A. & Gonzales, B. (November, 2007) Academic Libraries: Can Strategic planning effectively contribute to managing academic libraries for the future? Technical Service Quarterly 24,(3).
Stevenson, J. M, Buchanan, D. A. & Brown, W.A. (2007). Institutional and Individual planning points of progress for low-income high risk students in American higher education. Urban Researcher. Spring (2007)
Brown, W.A., (2004). The Management of Public Institutions. Bulletin Scientific (Academic Journal) Series A, vol.xxi. pp.28-37.