Community Health Advisors Network (CHAN)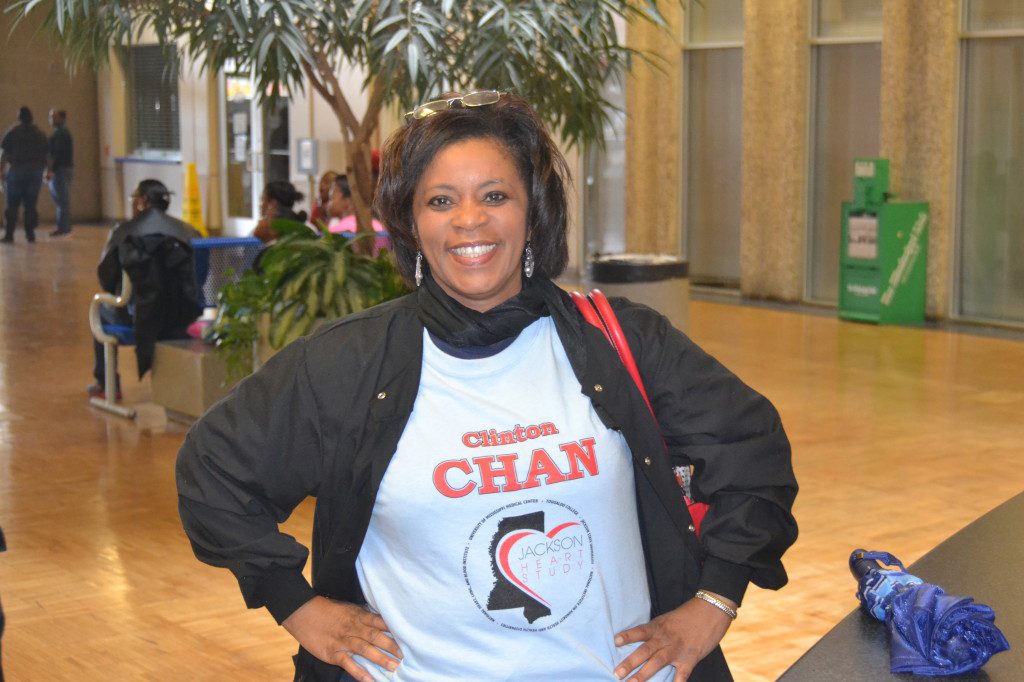 Most Mississippians have at least one cardiovascular disease (CVD) risk factor (obesity, high blood pressure, smoking, high cholesterol levels and no regular physical activity). The good news is that several of the risk factors associated with (CVD) can be prevented with health education and behavioral changes.

Beginning in 2001 the Jackson Heart Study (JHS) staff established Community Health Advisor Networks (CHANs) in five (5) communities to address CVD prevention through health education programs. We have trained and certified more than 80 Community Health Advisors (CHAs) during the last ten (10) years. Community Health Advisor Networks meet monthly from September through June and provide health education services in Hinds, Madison and Rankin Counties. They organize, implement or are involved in:
Community Health Walks
Community Health Fairs
CVD Prevention Forums
Health Screenings
Heart Health Prayer Breakfasts
Gender and Age Specific Heart Health Events
Delivering JHS Awareness and Retention Messages
Serving as a Liaison between the Jackson Heat Study and the Greater Community
Modeling Heart Healthy Lifestyles and Behaviors
The Jackson Heart Study CHAs are also certified to present trainings in Community settings. Currently they can provide the trainings listed below:

Chronic Disease Self-Management Program (CDSMP)- is a six (6) weeks, 15 hour program that teaches people with chronic health conditions techniques and skills to manage the symptoms associated with Asthma, Arthritis, Cancer, COPD, Congestive Heart Failure, Diabetes, Heart Disease, Obesity and others. CDSMP training includes: techniques to deal frustration, fatigue, pain and isolation; appropriate exercise for maintaining and improving physical strength, flexibility and endurance; discussions regarding appropriate use of medications; and suggestions of ways to improve communication with family, friends and health professionals. JHS is certified by the Stanford School of Medicine, Stanford Patient Education Research Center to teach this program.

With Every Heartbeat Is Life Training – is a 12 week, 30 hour life project that provides participants information and techniques to address risk factors associated with heart disease. The With Every Heartbeat Is Life curriculum and Picture Cards are used to provide this training. The curriculum uses games, role-playing and other activities to make learning fun and memorable.

The Community Health Advisors are a close knit group, who are committed to each other and to improving heart health in the tri county area. This is what some of the CHAs said about their experience during one of the trainings:
"I really learned a lot about my health. I learned how to take care of my heart, blood pressure, all of it. I have it all-high blood pressure, cholesterol… so it's all important to me. I've lost weight. Now, I know how to shop for my groceries. I look for how much salt and fat is in the food. At one time, I bought whatever looked good. Now I pay more attention. I want to live to be 100 years old…and I claim it in the name of Jesus!"

"I want to thank the JHS for coming to my neighborhood. I have got a new lease on life! I'm adding a lot of years to my life. I eat right. I've changed my habits. I exercise. I can live long. I can look over my notes from the manual. I appreciate the JHS, everybody!!"
If you are interested in joining us to provide heart health prevention activities and programs in the tri county community please call:
CHAN Presidents
| | | |
| --- | --- | --- |
| City | President | Phone Number |
| Bolton CHAN | Ms. Oceal Rozell | (601) 866-7554 |
| Canton CHAN | Ms. Bobby Jones | (601) 966-1323 |
| Clinton CHAN | Ms. Tommie Winters | (601) 924-6195 |
| Jackson CHAN | Ms. Lynette Ekunwe | (601) 942-6319, 815-5578 |
| Rankin CHAN | Ms. Augustine Kelly | (601) 979-8709 |

Community Health Advisors Health Network Meeting Schedules
Bolton/Edwards, Mississippi Community Health Advisors
The Bolton/Edwards CHA meets the 3rd Monday of each month from 6:00 p.m.-7:30 p.m. at the Kingsley Chapel Methodist Church in Edwards, MS. Meeting locations will alternate from time to time, please contact the president for accurate meeting schedule.
Clinton, Mississippi Community Health Advisors
The Clinton CHA meets every 4th Monday of each month. For more information on how you can become involved in the Clinton CHAN call Tommie Winters at 601-924-6195, or Mr. Marty Fortenberry at 601-979-8736.
Rankin County, Mississippi Community Health Advisors
The Peal and Rankin County CHA meets every 2nd Monday at 12:00 p.m. The location for these meetings varies, please call Ms. Darcel Odom at 601-979-8709 for more current meeting schedule information.
Canton, Mississippi Community Health Advisors
The Canton CHA meets the 4th Friday of each month at 12:00 p.m. at Sweet Rest Church of Christ Holiness USA, Pearl, Ms.

Other questions, concerns, inquiries about the JHS CHANs should be addressed to:
The Jackson Heart Study Community Outreach Center
Phone: (601) 979-8700 Fax: (601) 979-1537
Email: Marty.fortenberry@jsums.edu