Department of Professional Interdisciplinary Studies
The Department of Professional Interdisciplinary Studies offers two unique degree completion programs with an emphasis on cross-disciplinary knowledge that connects different disciplines. Our mission is to prepare nontraditional students to be future global leaders through the development of critical thinking, communication, theoretical inquiry, and technological skills in response to a diverse society and changing workforce. Students participate in service learning activities to foster civic responsibility and lead to competence in personal and organizational development. Students also achieve success through the flexible design of the program curriculum which can be tailored to students' academic, personal, and professional needs.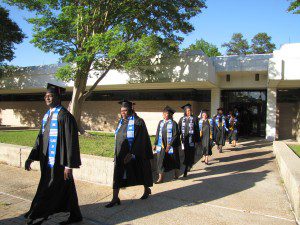 The Department offers coursework for academic credit in partnership with all Jackson State University units, community colleges across Mississippi, and in designated Metro Learning Classroom sites. The Department has an outstanding and diverse faculty who hold terminal degrees and engage in scholarly activities in lifelong learning. The Department also draws upon faculty from the University and adjunct faculty from various government, community, and educational agencies.
The Leading Edge for Adults

The school coordinates and provides academic support services to meet the special needs of adult learners:
Academic classes at traditional and non-traditional hours;
Metro Learning Classroom sites in the students' communities to help them balance work, family and school responsibilities;
Various course delivery modes including online, hybrid, weekend, and interactive video network classes;
Academic Support Services to enhance students' basic knowledge and skills;
Course offerings and course content that leads to career and life changes; and
Counseling and advisement services.
Take Your Career to a New Level:

A Professional Interdisciplinary Studies Degree
The Professional Interdisciplinary Studies Degree is for adults who want a flexible program that allows them to tailor coursework to meet their personal and professional needs. This program is excellent preparation for changing careers or entering into a variety of graduate school programs or professional careers, but the program's flexibility allows imaginative students to pursue many other avenues as well. Specific program benefits include the opportunity for students to achieve their educational and personal goals; expand their knowledge base by completing a comprehensive, individually-paced plan of study; and offering access to college studies as they balance family life and their current job, while working toward achieving their long-term career goals.
Complete 2 Compete: Bachelor of University Studies
The Complete 2 Compete (C2C) Initiative statewide program was developed to encourage Mississippi adults who have completed some college, but earned no degree, to return to college and finish what they started. The Bachelor of University Studies provides adult learners with a flexible path to a bachelor's degree and is one option for returning students to obtain degree completion through the C2C Initiative. The Bachelor of University Studies is intended to serve adult learners who have earned at least 90 credit hours but have not completed a baccalaureate degree and have not attended a postsecondary institution in the past twenty-four months based on the last date of attendance. The curriculum may be individualized for each adult learner based on coursework completed and career goals.