The Mississippi Child Welfare Institute was established at Jackson State University in 2003 as a part of the School of Social Work. The impetus to begin the Institute resulted from a grant awarded by the Children's Bureau, U.S. Department of Health and Human Services (2000-2004). The grant was developed, submitted and led by Dr. Gwendolyn Spencer Prater, who was Dean of the School of Social Work at that time. Twenty-six students were selected to participate in the training project which provided stipends and special training opportunities for social work students to prepare them for careers in child welfare. These students completed the academic and additional professional training, concluding with a degree in social work from Jackson State University by 2004. Mrs. Wanda Gilliam, Deputy Director of Programs, was the Mississippi Department of Human Services liaison with the School of Social Work during the grant period and facilitated productive experiential educational opportunities for students with the Division of Family and Children's Services.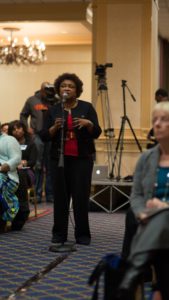 Dr. Gwendolyn Spencer Prater, Dean Emerita, poses a question to Dr. David Chandler, opening speaker.
Also, during the 2002-2003 academic year, Jackson State University's School of Social Work, in partnership with other state institutions of higher learning, and in collaboration with the Mississippi State Department of Human Services, under the leadership of Mrs. Thelma Britain, initiated the Title IV-E Program in Child Welfare. The Program was strongly supported by the Mississippi Legislature led by the late Representative Charlie Capp (Chair, House Appropriations Committee). Jackson State's leadership team included Drs. Gwendolyn S. Prater and Ruth M. Williams as Principal Investigator and Co- Principal Investigator, respectively, and Ms. Velma Hankins, as the Program Administrator. The Program continued for approximately three and one-half years, with Jackson State University's School of Social Work as the lead institution for the majority of that time-period, with the final year of the program (2005-2006) being rotated to one of the other sister institutions. Numerous students at the baccalaureate and master's levels were trained for child welfare practice with vulnerable populations. Training was also developed and provided for foster and adoptive parents, and public child welfare staff. Since that time, there has not been a consortium of state schools and programs of social work jointly engaged in Title IV-E academic programming with the Mississippi Department of Human Services. However, the Mississippi Child Welfare Institute at Jackson State University continues to offer its annual conference for professional development of child welfare practitioners, supervisors, administrators, faculty, and students in Mississippi and surrounding states with expert presenters in the field from across the United States. The Institute partners with public and private agencies and organizations as it works to improve services to children and families including but not limited to: the Mississippi State Departments of Human Services, Health, and Mental Health, the Children's Defense Fund (Southern Regional Office), Mississippi Children's Home Services, and the Casey Family Programs and Marguerite Casey Foundations.