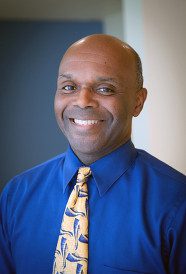 The instructional leadership of Patrick Jackson ('81 BME) and commitment to music education are legendary in the Kirkwood (MO) School District. He has been honored in Who's Who Among America's High School Teachers by former students. Jackson was the recent recipient of the Missouri American String Teachers Association's "Secondary String Educator of the Year" award. In addition, the Kirkwood School District honored him as the 2003-04 Teacher of the Year. Jackson was also the 2003 Emerson "Excellence in Teaching" award winner and was recognized the following year by The St. Louis American as one of its "Excellence in Education" honorees. He is the recipient of the McComb High School Hall of Fame Class of 2014.
His orchestras have won local, state and national acclaim for the past 29 years. After being invited to perform at the Missouri Music Educator's Association State Conference six times, his Symphonic Orchestra made a second appearance at Carnegie Hall, March 5, 2017. A distinguished double bass pedagogue, Jackson has presented at the MMEA State Conference and the prestigious Midwest Band and Orchestra Clinic in 2016.
In March 2010, the KHS Symphonic Orchestra performed at famed Carnegie Hall, selected as one of three high school orchestras in the nation to do so. In June 2011, Mr. Jackson received the Yale Distinguished Music Educator Award from the Yale School of Music. Prior to his joining the Kirkwood School District, Jackson taught in the Normandy School District and St. Louis Public Schools.
Mr. Jackson's former students have won first prize in prestigious strings competitions including the Avery Fisher Prize, the Sphinx Competition, and the Young Concert Artist Guild.
Jackson's students have also attended top music schools nationwide, including The Juilliard School, Eastman School of Music, Yale School of Music, New England Conservatory, Oberlin Conservatory, Indiana University Jacobs School of Music, and the Shepherd School of Music at Rice University.
A native of McComb, MS, Jackson received his B.M.E. at Jackson State University and his M.M. in Double Bass performance from the St. Louis Conservatory of Music. While at Jackson State University, he was a member of the Mississippi Symphony Orchestra and Mississippi Opera Orchestra and received full scholarships to study music at Interlochen National Summer Music Camp and the Aspen Music Festival. Later in his career, he studied orchestral conducting at the South Carolina Institute of Conducting and American Institute Of Conducting. He studied conducting with Alfred Duckett and Donald Portnoy. The Kirkwood High School Orchestra Rehearsal Hall has been named in his honor and an annual scholarship has been established in his name for the outstanding orchestra student at Kirkwood High School. His daughter Patrice Jackson, a cellist, is a graduate of Yale University School of Music and the Juilliard School. She is also Associate Cello Professor at Boston Conservatory at Berklee in Boston, MA.
Jackson served on the MSHSSA advisory committee for music. He is a member of the American String Teachers Association, M.M.E.A., N.A.f.M.E., and is past vice president of the High School Orchestra for the St. Louis All-Suburban Music Educators Association. He is the Director of Webster University's Young People's Concert Orchestra.