Instructor
Marching Band Director, Percussion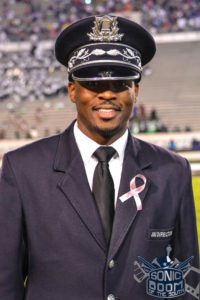 Roderick Little is currently serving as Marching Band Director at Jackson State University. He received his Bachelors and Masters in Music Education from Jackson State University. A native of Jackson MS, he graduated from Lanier High School. Upon graduating from high school, he went on to J.S.U. where he participated in the University Bands, including the famous "Sonic Boom of the South." He also performed in the University's Symphony Orchestra. During his tenure in the Sonic Boom he played in the percussion section as a snare drummer, served as a part of the Jackson five drummajor squad, a student arranger and he also served as a student conductor of the Symphonic Band. After receiving his undergraduate degree from J.S.U., he went to his alma mater, Lanier High School, where he served as Director of Bands for four years.
Mr. Little is also an accomplished conductor, clinician, arranger and instrumentalist. He has arranged for numerous high schools, colleges, chamber groups, jazz ensembles and church conventions. He has also scored piano music for F & S Music KC Publishing Company, which was founded by Lannie Spann McBride (previously instructor of music at J.S.U. and revered church motivator/musician). He has performed with local groups around Jackson MS, and momentarily in Houston TX. Mr. Little has studied under Owen Rockwell whom in which is his predecessor at J.S.U. His professional affiliations are The National Association for Music Education (NAFME), Percussive Art Society (PAS), Mississippi Association of Education (MAE), Mississippi Band Masters Association (MBA) and HBCU National Band Directors Consortium (HBCU-NBDC).
Mr. Little is married to Lynise Little whom he meet at J.S.U. in the "Sonic Boom." They both were the first to do a joint recital at J.S.U. showcasing music of both the classical and contemporary jazz genres. They have one son, Aiden Little.