Former Mississippi Gov. Haley Barbour gave a presentation on his role as governor during and after the Hurricane Katrina hit on Feb. 12 (Th), at 5:30 p.m. The event was held at the JSU's Mississippi e-Center in Jackson. More detailed information of the event is available at http://www.jsumsnews.com/?p=16591
Managing natural hazards (for example, hurricane) is a one of newly growing fields in Public Policy. The PPAD students and faculty members attended the event. Among them, some of the PhD students and faculty members have joys to take pictures with former Gov. Barbour and to ask questions to him.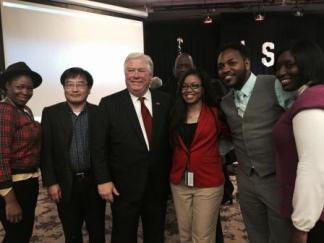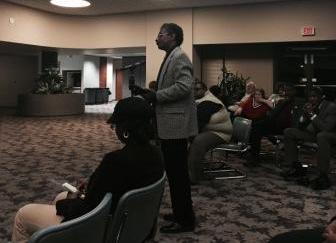 The left picture shows Ms. Ashlee Theodore, Professor Jae-Young Ko, Gov. Barbour, Ms. Almesha Campbell, Christopher Roby, and Latonya Curley (from left to right). The right picture shows Professor Johnny Gilleylen asking a question to the Governor.