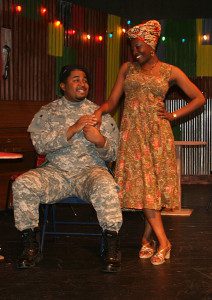 Congratulations to the Department of Speech and Theatre's five students nominated to participate in the Kennedy Center American College Theatre F
estival (KCACTF). The students will compete at the festival in Roanoke, VA February 3rd-9th, 2014.
The students nominated, from JSU's production of "Ruined" are:
Dylan Fleming (Acting), Tierra Williams (Acting), JacQuela Carter-Hulitt (Set Design), Quintavious Phillips (Stage Management), Paul McInnis (Student Directing Intern)
Director Dr. Nadia Bodie-Smith is very proud of their accomplishments and is looking forward to the competition.
The students will not only compete, but also attend workshops and audition for graduate schools and professional companies.