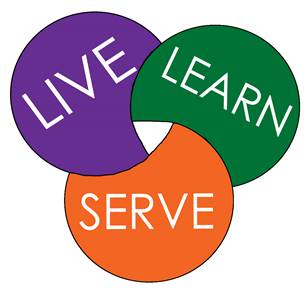 What is the difference between Service-Learning and Community Service?
Service-Learning is curriculum-based and structured as a class requirement in which students enroll and serve the community.  It includes both a classroom and an off-campus experience with a reflective component and meets the objectives and goals set forth by the instructor/course. In community service, the emphasis is placed on the people being helped and the service being offered.  These are services, which are identified by an institution of higher education, through formal or informal consultation with local nonprofit, governmental, and community-based organizations. Community Service is designed to improve the quality of life for community residents, to solve particular problems related to their needs, including such fields as health care, child care, literacy training, education welfare, social services, transportation, housing and neighborhood improvement, public safety, disaster relief, crime prevention and control, recreation, rural development, and community improvement; among others.
What is the student requirement for Service-Learning?
All students are required to attend or complete an orientation prior to starting the service experience. Service-Learning Orientations (for students) are held in the Jacob L. Reddix Hall 2nd floor (General Purpose Room). Each semester the orientation schedule will be posted on social media (Instagram: @jsu_cs, Twitter: @jsu_cs and Facebook: JSU Community Service) and sent to various departments via email. All students are required to complete a Service-Learning Registration Packet, which includes the Service-Learning Registration Form, Forgery Statement, Student Liability Release Form/Agreement, and a Professional Guideline Form, (for each semester a packet must be completed before enrolling in a Service-Learning course).
What should I do if I miss the orientation?
If you miss the orientation please contact the Service-Learning Coordinator, Kelli Goddard-Sobers at 601-979-6938 or kelli-mae.goddard-sobers@jsums.edu.
Do I have to complete Service-Learning if I have already met the Graduation Service requirement?
Yes, even if you have completed the Graduation Service Requirement, if your professor requires Service-Learning hours for his/her course, you must complete the additional hours.
If I am enrolled in two (2) different courses at the same time that require Service-Learning hours, can I use the same worked hours twice?
No, each course requires a different set of hours.
Can I get paid while I am earning Service-Learning hours?
No
Can a Service-Learning site be a for-profit or non-profit site?
Yes, Service-Learning hours can be acquired at a for-profit or non-profit site upon prior approval of the site.
Where can I find a list of approved sites?
For a list of currently approved agencies, click here: Spring 2020-Approved-Partner-List
What are the steps to get a new site approved?
If you wish to perform your service learning hours at a site not listed on our approved agency list, first discuss the proposed site with your professor.  Once the professor has approved the site, either stop by The Alice Varnado Harden Center for Service and Community Engaged Learning located in the Jacob L. Reddix Hall, Suite 110, or click on site agreement link here  or below.
Note:  Sites must also be approved by the Center for Service office prior to beginning service. 
If the site meets all requirements for approval, The Alice Varnado Harden Center for Service & Community Engaged Learning for Service will add the community partner to the approved Agency List. 
How do I obtain a Service-Learning Log-in form?
Service Learning Log-in form Fall 2020
How to submit your Service-Learning Log-in form.
All forms should be submitted to your professor before the set deadline. Your professor will submit all forms to the Faculty Liaison in The Alice Varnado Harden Center for Service & Community Engaged Learning.
What will NOT be accepted on the Service Learning Form?
Pictures of forms, faxed forms, electronic signatures, and incomplete forms.
How do I check my Service-Learning hours?
Students are responsible for tracking their individual hours at the site they have selected.
Step 1: Log into your P.A.W.S. account; Step 2:  "Click" Student Records; Step 3: "Click" Academic Transcript; and Step 4:  "Click" Transcript Levels, scroll down to Community Service, press "Submit."
Downloads:
Service Learning Registration Packet Fall 2020
Service Learning Log-in form Fall 2020
Spring 2020-Approved-Partner-List