Natdrick Jones
April 16th, 2019 by alumni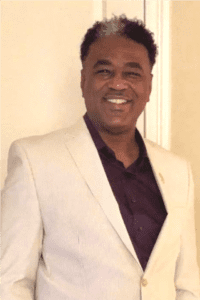 Mr. Natdrick Jones owns N.L. Jones Funeral Directors (a full-service funeral home); Heaven's Gate Memorial Garden (a perpetual care cemetery); and co-owns Little Angels Learning Center, all in Tupelo.
A native of Los Angeles, California, Jones graduated from Tupelo High School in 1984. He earned a bachelor's degree from Jackson State University in 1990 and an associate's degree of Mortuary Science from Jefferson State School of Mortuary Science in 2000.
He is a life member of the Jackson State University National Alumni Association and a member of the JSUNAA Tupelo Alumni Chapter. His other affiliations include the NAACP, National Funeral Directors and Morticians Association and Omega Psi Phi Fraternity's Upsilon Epsilon Chapter at JSU.
Natdrick is the son of JSU alum Lera M. Jones (Class of 1965). According to Natdrick Jones, his mother met his father in 1964 at a James Brown concert at College Park Auditorium in Georgia. His father, Nathaniel Leon Jones, then 22, was a musical genius from Kinston, N.C., and the saxophonist and band director of The James Brown Show. Natdrick said once his dad laid eyes on his mother he said she was the "prettiest girl he had ever seen." The rest is history. Oh, do we love Thee I Love JSU!