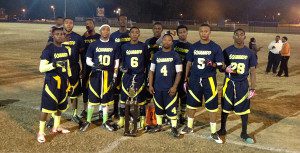 Get Involved.
Intramural Sports at Jackson State University proudly hosts a variety of mental and physical wellness opportunities for students to participate either individually or team regulated. Intramural Sports provides programs which are safe, diverse, and inclusive.
Intramural Sports offers an accessible environment to all students who choose to participate. The Intramural Sports program is offered throughout the school year for both indoor and outdoor activities.
For more information, contact Arron Richardson at 601-979-1368 or arron.l.richardson@jsums.edu.
The Intramural Sports office is located in the Walter Payton Recreation and Wellness Center.
Check out this list of scheduled sports and join a team today:
JSU Intramural Sports Schedule