2017-2018 Legislative Action
SR72.3: A Resolution to Formally Congratulate Dr. William B. Bynum,  Jr. on Becoming the 11th University President, Author: DAVIS, Asean, SGA Vice President; University Affairs Committee
2017-2018 Executive Branch Minutes of the Meeting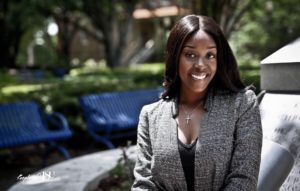 From the desk of
Alexis Moore, President
2017-2018 Student Government Association
Greetings Jacksonians,
It is my pleasure to welcome you to Thee Jackson State University. On behalf of the Student Government Association, I Alexis Moore, the 72nd Student Government Association President am excited to engage in yet another successful year with my peers. I am especially looking forward to working with Dr. William Bynum, the new university president, as we embark on this journey to learn and grow together.
I encourage you all to take full advantage of the opportunities that my "dear ole college home" has to offer. I know your experiences here will be nothing short of amazing. I caution you to never lose sight of your purpose as you matriculate through Jackson State University. Welcome to the Tiger family! As Student Government Association President, it is my sole duty to see to it that you have the necessary tools to be as successful as I know you can be. Be prepared to get MOORE in Formation as we embark on this journey to revitalize image, reconstruct student morale, and restore tiger pride.
Best Wishes,
Alexis B. Moore
72nd Student Government Association President
Jackson State University
sgapresident18@jsums.edu