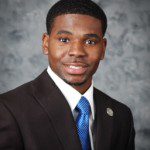 Charles A. Cathey III, SGA President
Dear Class of 2017:
It is with Tiger Pride that I extend a great Jacksonian welcome to all incoming freshmen and transfer students as you enter "My Dear Ole College Home", Jackson State University. Since 1877, Jackson State University has been an institution of higher learning founded on the principles and morals of academic excellence and the empowering of the minds of its students. I am greatly honored to be a member of this historical HBCU, and proud to represent its rich tradition.
I have been afforded the great opportunity to serve as the Student Government Association President for 2013-2014. As SGA President, it is my duty to govern fairly, inspire, lead, and fight on the behalf of the JSU student body. I am also charged with the challenge of maximizing the student experience by increasing the retention rates of our males, re-introducing women initiative programs for mentoring, and nailing the student body into the framework of our SGA through involvement. Thus, my platform "Building Together as ONE" encompasses exactly what my administration and I plan to accomplish this academic school term. We will continue to "Build Together as ONE JSU" on the foundation of increasing student morale, involvement, and social awareness.
As student leaders, it is our job to serve and care about the well-being of our student body as we effectively implement solutions to meet your needs. The 2013-2014 SGA proudly welcomes you to our Tiger family and ask that you actively support us throughout the school year. We will continue to support and work tirelessly for the betterment of you the student body! There are many great opportunities waiting for you to explore and get involved once you get to campus. I am a firm believer in the quote "Our deepest fear is not that we are inadequate, our deepest fear is that we are great beyond measure" – Marianne Williamson. JSU will prepare you for your greatness in academia and your future endeavors. I welcome you to visit me in my office located in the Student Center on the 2nd floor.
Building Together as ONE,
Charles A. Cathey III, President, Student Government Association