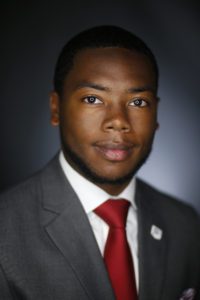 From the desk of
Mr. Kendall Bunch, President
2016-2017 Student Government Association
Greetings Jacksonians,
On behalf of the Student Government Association, it is my honor and pleasure to welcome you to "Thee I Love" Jackson State University. I, Kendall Bunch, am honored to serve as your 71st SGA President as we grow and learn together. Jackson State University is an institution where we "Challenge Minds and Change Lives", and we have been doing so since the beginning of time. One of many special aspects of Jackson State University is that we believe it takes a village to help in the development of a student. This means that as a tiger, you are a part of our family and your success is our main goal!
It is my goal this year to take a proactive approach to reduce the financial burden on our students and campus organizations. As president, I also hope to enhance the love our students have for our university while teaching them to give back post-graduation. It is my duty to uplift, govern, lead, and inspire each and every one of you while being an effective voice for all of the student body. These responsibilities have played a pivotal role in my platform "Join the BUNCH" by unifying our student population.
As you continue to matriculate at Jackson State University, you will be faced with many decisions that will attribute to your growth as an individual. I encourage you to make each decision carefully and to never lose sight of your purpose of being here. Take advantage of every opportunity that this illustrious university has to offer. The Student Government Association has many duties, but our main goal is to help each and every student that walks this campus. Once again welcome to JSU and thank you for joining "Our Dear Ole College Home"! As you have made this your home, you have inevitably joined the BUNCH. Where we are Building, Unifying, Nurturing, Changing, & Helping each and every student.
With Tiger Pride,
Kendall R. Bunch

71st Student Government Association President
Jackson State University
sgapresident17@jsums.edu