Class of 1975
Retired in 2008
2016 JSU Army ROTC Hall of Fame Inductee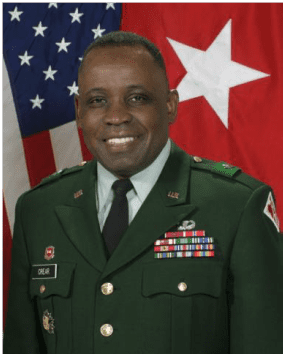 Brigadier General Robert Crear retired on 1 May 2008. He has served worldwide, commanded and led soldiers and civilians at every level, while serving in high level leadership positions with the US Army Corps of Engineers (Corps). At the Pentagon he served as the military assistant to the Assistant Secretary of the Army for Civil Works; At the Corps Headquarters in Washington DC, he served as Assistant Director of Civil Works and as the Chief of Staff; In the field he commanded the Vicksburg District, the Southwest Division (SWD) and the Mississippi Valley Division (MVD); Additionally, he served as President of the Mississippi River Commission, having been appointed by the President and confirmed by the Senate.
In his last assignment as MVD Commander and President of the Mississippi River Commission, Crear was responsible for a $7.5 billion civil works program. In addition, he played a vital role in managing the Corps water resources program in the entire Mississippi River Valley. The boundaries of the Mississippi Valley Division extend from Canada to the Gulf of Mexico, include portions of 12 states, and encompass 370,000 square miles. The programs and activities overseen by the MVD and MRC are conducted by 5700 employees in six district offices located in St. Paul, Minn., Rock Island, Ill., St. Louis, Mo., Memphis, Tenn., Vicksburg, Miss., and New Orleans, La.
General Crear holds the position of Distinguished Visiting Lecturer of Applied Engineering, National Security and Homeland Security at Jackson State University, Jackson, Ms. He is founder and CEO of The Crear Group consulting firm. He is Chairman of Free Flow Power Corporation's wholly owned subsidiary Free Flow Development LLC a hydropower developer based in Gloucester, Ma that is using proprietary technology to extract energy from moving water (Mississippi River) to produce electricity.
He is married to his high school sweetheart, the former Reatha Hall. They have four adult children.