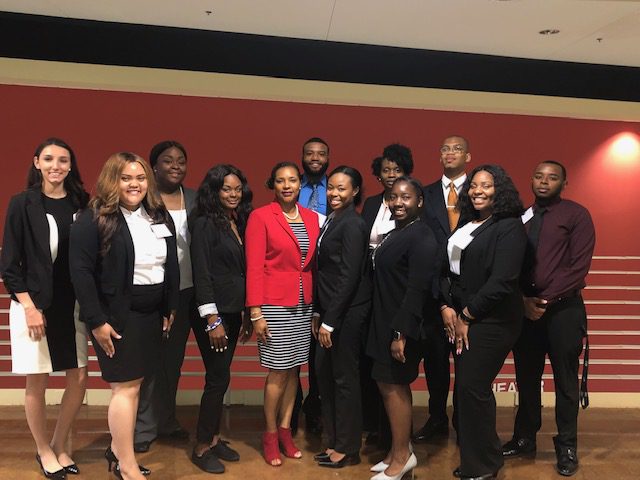 Teacher Candidates, Spring 2019
All TEP licensure candidates are required to complete a minimum of 120 hours of pre-practicum field experiences prior to their student teaching semester.
Eleven education courses at Jackson State University (JSU) have pre-practicum field experience as a fundamental part of their course work. The faculty that teach these courses are committed to public education and working with our students to learn about educational issues through experiences within the Metro Area School Districts. Each course is separate from the other and students are expected to complete the field hours for each course.
These pre-practicum courses expect JSU students to learn more about the complexities of the work of teachers, as well as the nature of teaching and learning within the school and its community. Each JSU student will be assigned a site teacher at either an elementary, middle or high school.
Practicum Field Experience (Student Teaching)
EDCI 402: Clinical Internship for Student Teaching
The practicum is the capstone experience of the College of Education and Human Development Teacher Education Program taken during either the fall or spring in the senior year. It is a twelve week experience in the K-12 setting where teacher candidates are mentored and learn the craft of teaching and learning by master teachers.
Application for Student Teaching:
Application for Student Teaching (Revision in Progress)
CastleBranch.com (replaces Certifiedbackground.com) University Code: JA54
Mississippi Association of Educators/National Educators Association Student Enrollment
Teacher Internship Information:
HANDBOOK FOR INITIAL AND ADVANCE INITIAL FIELD EXPERIENCES (Redesign in Progress)
INTASC STANDARDS AND COEHD CONCEPTUAL FRAMEWORK ALIGNMENT
JSU COE CANDIDATE RESPONSE CHART
PORTFOLIO ASSESSMENT AND RUBRIC