Kids Kollege in JSU 2015 Homecoming Parade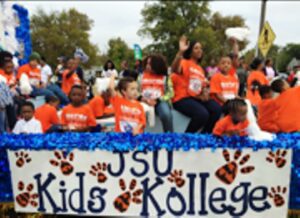 Afterschool Program Enrollment – Fall 2015
Kids Kollege Enrichment Link to Common
Kids Kollege is a 501 3C organization housed on the campus of Jackson State University. Ninety-five percent (95%) of Kids Kollege funding comes in the form of tuition. The Kids Kollege Summer Program served students from sixty five different schools, both public and private, from around the city, state and country. Kids Kollege year-round programs include two after schools programs, Saturday Morning Academy, and Extended Day Program. Kids Kollege is a Supplemental Education Provider for the State of Mississippi, Children of Alumni, CDF Freedom School and the Classic Summer Program.
Since its founding in 1983, as a place of academic and cultural enrichment, Kids Kollege at JSU, has provided over 40,000 families and their pre-school and school aged children, with caring and competent educational services. Kids Kollege has grown dramatically over the last two decades, and improved its offerings, its assessment procedures, and yet it has remained remarkably true to its mission and ideals.
Kids Kollege is currently accepting applications for its afterschool program and extended hours program. Click on the registration link above for more information or stop by the Kids Kollege office to get an application. You may also contact the director, Tierra D. Strong, at 601.979.2238 or via email at tierra.d.strong@jsums.edu.