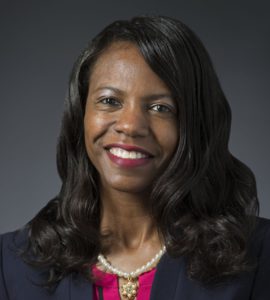 APRIL 7, 2018 — Huntington Ingalls Industries (NYSE:HII) reports that Latitia D. McCane has been named director of education for the Apprentice School at Newport News Shipbuilding.
McCane is responsible for the overall leadership, vision and strategic direction of craft training, academic delivery, student services, accreditation and recruitment for the school, which provides high quality, comprehensive four-to eight-year apprentice programs for approximately 800 students.
Since 1919, the school has produced more than 10,000 graduates. It will celebrate its 100th anniversary next year.
McCane will report to Ray Bagley, Newport News' vice president of trades operations.
"Latitia comes to us at an important time in our company's history when we are focused on people and technology—transforming the way we do business," Bagley said. "Given Latitia's wealth of experience, I'm confident that she will play an integral role in helping prepare our shipbuilders for the future. We are fortunate to have Latitia on our team."
Since 2007, McCane has held several leadership positions at Bishop State Community College, a two-year public institution with an enrollment of 3,400 students in Mobile, AL. She most recently served as dean of instructional services and was responsible for all academic programs across the four campuses. She also was associate dean of instruction at Jefferson Davis Community College in Brewton, Alabama.
McCane earned doctoral degrees in urban higher education administration and education administration from Jackson State University and Lacrosse University, respectively. She also holds graduate and undergraduate degrees in organic chemistry and chemistry from the University of Alabama, Texas Southern University and Alabama State University.
The Apprentice School accepts about 225 apprentices per year. The school offers four- to eight-year, tuition-free apprenticeships in 19 trades and eight optional advanced programs. Apprentices work a 40-hour week and are paid for all work, including time spent in academic classes. Through partnerships with Thomas Nelson Community College, Tidewater Community College and Old Dominion University, the Apprentice School's academic program provides the opportunity to earn associate degrees in business administration, engineering and engineering technology and bachelor's degrees in mechanical or electrical engineering.