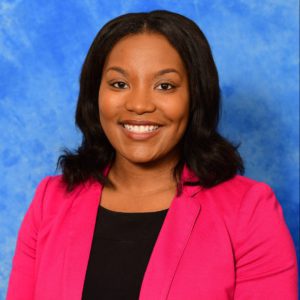 If you ask Tara Dunn what her goals as dean of students for Northwest Mississippi Community College are, she will quickly tell you she wants to improve student development and success. Dunn hopes her own practical experience and desire will provoke positive influence on the students and the colleagues she works with daily.
In her capacity as dean of students, she will be responsible for housing, student conduct and educational programming for students and the Northwest community regarding safety, security, relationships, cultural awareness and substance abuse. She will also be teaching the college's Leadership and Organizational Skills courses.
Dunn came to Northwest in November 2016 when former Dean of Students Aime Anderson became the college's Registrar. Prior to coming to Northwest, Dunn had served as associate director of Housing and Residence Life and student success specialist at Hinds Community College since July 2010. She also served as a student orientation instructor and as an adjunct reading instructor.
In the fall of 2016, she was given additional duties as director of Hinds' Quality Enhancement Plan (QEP). Prior to her time at Hinds from 2008-2010, Dunn served as a residence hall director at Delta State University.
Dunn is a native of Picayune. After graduating from Picayune Memorial High School, she received a Bachelor of Science in Interdisciplinary Studies from Delta State University and a Master of Science in Higher Education from Mississippi College. Dunn is currently working on a doctorate in Urban Higher Education at Jackson State University.
Dunn's passion for student affairs and higher education began when she was a sophomore at Delta State. "My freshman year, I planned to go to school, do homework and come home on the weekends. That changed my sophomore year when I became a resident assistant. It sparked my interest in housing and student affairs, which led to me getting involved in student government, recruitment and honor organizations. I had no idea that my involvement with student activities would be the basis of my future career," Dunn said.
She had been majoring in English Education and had taken a lot of psychology classes for her major. She was planning to become a teacher, but her interest in student affairs led her down a different path.
When she was a senior, she spoke with her adviser, who helped her change her major to Interdisciplinary Studies with a concentration in English and psychology. "Once I realized how much I loved higher education, and that teaching English was not my passion, I only wanted to focus on the skills that could help me in my career. Writing skills are transferrable, and understanding people is essential to any job. I knew an Interdisciplinary Studies degree would give me a good integration of both," Dunn said.
Dunn has been a member of several committees and organizations dedicated to aiding student development and success including the Mississippi Community College Board Student Leadership Conference; Project ME (Mentoring Effort) and IDEAL Woman Lead Advisor. IDEAL is an acronym for Intelligent. Dignified. Emerging. Ambitious. Leaders.
She is a member of Alpha Kappa Sorority, the Mississippi Association of Housing Officers and the Southeastern Association of Housing Officers. She received the Mississippi Association of Housing Officers Service Award in 2011.
Dunn believes that orientation and students' first-year experience will be something she wants to focus on in her capacity as dean of students. She feels that the relationship between a student's first year experience has a lot to do with student retention in college. She believes one big area where some guidance for students is necessary is social media, and its affects on students during college and in their future as employees. "College professionals should educate students on the impact of social media. It can enhance or damage your future opportunities. It is important to understand it and use it to promote the best representation of yourself," Dunn said.
"From one of the most competitive pools of job applicants I've seen in a long time, Tara emerged as our strongest candidate for the job of dean of students. Everyone was impressed. I know she is going to do some great things here at Northwest," said Dan Smith, vice president for student services and chief of staff.
In her spare time, Dunn enjoys working out and visiting family and friends. She has an older brother, Kenwa and a sister-in-law, Kim. Her younger sister, Aleia is currently a student at Hinds. Her parents, Donald and Audrey are both retired.
Dunn is very passionate about what she does, and believes that she should be first and foremost, a student advocate. As a manager, she strives to listen, but also be a firm managerial leader. "My goal is to always be firm, fair and friendly. When others know where you stand, it increases your credibility to lead," she said.