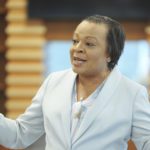 Jerald Jones Woolfolk is Lincoln University's new president, the school announced Tuesday.
She will begin serving as LU's 20th permanent president June 1 — although she's expected to attend the President's Gala on April 7.
Woolfolk was on a business trip Tuesday and not available for an interview, but told the News Tribune she's looking forward to coming to Jefferson City. LU Curators President Marvin Teer, of St. Louis, said the board's vote to hire her was unanimous.
"Two of our most critical areas are enrollment management and funding," he said. "She is uniquely qualified in both of those areas."
Woolfolk currently is vice president for Student Affairs and Enrollment Management at the State University of New York in Oswego.
That school's president, Deborah F. Stanley, said in an email: "Dr. Woolfolk has been an instrumental member of SUNY Oswego's leadership team and a valued colleague whose skills, counsel and judgment have been immeasurable to me and to her peers across campus.
"In addition to overseeing steady enrollment growth and record-breaking applications, she has worked diligently with her staff in Student Affairs to enhance student life programming and services on campus, with the goal of fostering increased student success."
Woolfolk was one of two finalists for the Lincoln presidency, which came open last year when Kevin Rome left at the end of June to become president of Fisk University, Nashville, Tennessee.
Mike Middleton, a long-time University of Missouri administrator and law school teacher, has been LU's interim president since last June 1, and will continue in that post until Woolfolk takes over this summer.
Woolfolk has been at SUNY-Oswego for four years.
A native of Leland, Mississippi — and one of the nation's poorest places — Woolfolk earned a bachelor's degree in psychology from Jackson State University in Jackson, Mississippi.
She earned her master's degree in counselor education at Iowa State University, Ames — where, she said last month, she realized she wanted to pursue an education career.
Woolfolk later earned her doctorate in urban higher education from Jackson State.
In her first job after college, she went to the University of Arkansas, Pine Bluff — and stayed 17 years.
Woolfolk worked at Mississippi Valley State University in Itta Bena, Mississippi, for 13 years, then left for a position at City University of New York's College of Staten Island. She was asked to return to Mississippi Valley after one year and then stayed another three.
That variety of experiences should help her in the LU president's job, Teer said.
"I think this will be an excellent opportunity for us to work, learn, live and grow together, and Dr. Woolfolk will be a champion for Lincoln in the years to come," he said.
Woolfolk was chosen through a national search conducted by the Boston-based Isaacson, Miller, working with LU's 23-member search committee headed by Curators Winston Rutledge, of Jefferson City, and Frank Logan, of St. Louis.
The committee considered formal applications from 58 people, interviewed five and recommended two finalists — Woolfolk and William Hudson Jr., vice president of Student Affairs at Florida A&M University, Tallahassee.
"Everybody was very, very engaged, had done their homework and had read up on all of the candidates," said Teer, who also served on the search committee. "Throughout that process, it was professional, it was collegial and you couldn't hope for a better process."
Both candidates visited Jefferson City three weeks ago, attending a number of different forums where they met with faculty, staff, students, alumni, members of the Jefferson City community and the curators.
"If you really do this right, everybody has a role to play, and the university touches so many different spaces in the Jefferson City community," Teer said. "And I think they deserve to be at the table.
"I hope that we included everybody — as many of those interested groups as we could."
After the campus visits, the search committee met to recommend one of the finalists to the curators. That recommendation wasn't made public.
Student Government Association President Curtis Burton III served on the search committee.
After Woolfolk's hiring was announced Tuesday, Burton said in an email: "We are excited and elated of the hiring of Dr. Woolfolk. We are eager to begin working with her, to continue moving our fine institution forward."
Cole Abbott, LU's shipping and receiving warehouse supervisor, who is the current Staff Council chair, said Lincoln's employees also are "excited to welcome Dr. Woolfolk to our historic campus. LU Staff looks forward to showing Dr. Woolfolk all the great things Lincoln University has to offer, and working with her to guide Lincoln into the future."
School officials said Woolfolk will earn $240,000 during her first year — the same as Rome was paid in his last year at Lincoln — and also receive benefits that were comparable to Rome's.
In his last year, state Higher Education Department records show, Rome received nearly $75,000 in benefits, including insurance for himself and his family, an automobile, retirement, an annuity and a stipend for adjunct teaching.
The state records show the LU president's salary is one of the lower salaries paid among Missouri's four-year college presidents and chancellors.
PREVIOUS COVERAGE:
Lincoln University has named Jerald Woolfolk as its 20th president.
Woolfolk was selected after a six-month search led by the Isaacson, Miller search firm. Curators Frank Logan and Winston Rutledge served as co-chairs of the 20-member Presidential Search Committee.
Board of Curators President Marvin Teer of St. Louis said in an LU news release that Woolfolk is the right leader for the university at this time.
"We have a lot of work to do, and Dr. Woolfolk is exactly who we need at the helm to move us forward," Teer said.
Woolfolk currently is the vice president for Student Affairs and Enrollment Management at the State University of New York at Oswego. She also holds roles as a visiting professor and interim chief diversity and inclusion officer at SUNY.
She will begin her tenure as LU's president June 1.
Michael Middleton, who has served as LU's interim president since July 2017, will continue in that role until then.
Woolfolk will be introduced during LU's 16th Annual President's Gala weekend. The gala is scheduled to begin at 5 p.m. April 7 at The Linc in Jefferson City.
Woolfolk holds a bachelor of science degree is psychology from Jackson State University, a master of science degree in counselor education from Iowa State University, and a doctor of philosophy degree in urban higher education from Jackson State University.
She also completed the Harvard University Institute for Education Management, the American Association of State Colleges and Universities/Council of Independent Colleges/Academic Leadership Institute Executive Leadership Academy, the AASCU Millennial Leadership Initiative and the Indiana University Certificate in Fundraising Management.