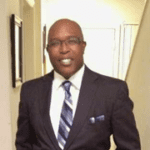 Dr. John Young has been selected as a Regional Support Manager of the Office of Administration in the Regional Office at HUD in Kansas City, Kansas.
John has been with HUD for 14 years, including several years of service in the St. Louis Field Office. He started with CPD and is currently with Multifamily here in the Kansas City's Regional Office. John's official start date will be Monday, September 16th.
Please join us in welcoming Dr. John L Young to the Region VII Admin Team!!!