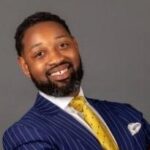 Stevie L. Lawrence II will join the Southern Regional Education Board September 4 as vice president for postsecondary education. In this role, he will lead SREB's postsecondary programs, such as the Academic Common Market, Doctoral Scholars Program, education data services and state authorization reciprocity agreements. He will also be charged with developing additional initiatives to support postsecondary state offices and institutions.
"I am excited to serve in this capacity at SREB, leading and developing postsecondary programs and initiatives," said Lawrence. "I look forward to creating strategic partnerships and efforts that will increase equity and access for higher education throughout the region."
Lawrence comes to SREB from Fort Valley State University in Georgia, where he is founding dean of the University College and previously led student affairs and enrollment management. He has also held positions at the University of North Carolina system, Shaw University, Virginia Union University and Halifax Community College. His background includes strategic leadership in academic affairs, specifically in student success and retention.
Lawrence earned a bachelor of arts degree from North Carolina A&T State University, a master of public administration from North Carolina Central and a doctor of philosophy in urban higher education from Jackson State University.
"Dr. Lawrence is an accomplished, energetic, passionate administrator," said SREB President Stephen L. Pruitt. "He has an abiding commitment to student success that will continue to drive his work on behalf of SREB higher ed agencies, colleges and universities, and students."
Cheryl Blanco, SREB's current vice president for postsecondary education, will work with Lawrence through September 30 as he transitions into the new role.