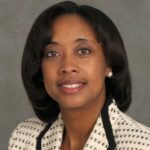 Dr. Tonjanita Johnson, an Alabama native and veteran academic leader, will succeed Dr. Charles Ray Nash as Senior Vice Chancellor for Academic and Student Affairs for the University of Alabama System.
Dr. Johnson will join the UA System on December 2 and assume the title of Senior Vice Chancellor for Academic and Student Affairs on January 1, 2020. She is currently Executive Vice President and Chief Operating Officer for The University of Tennessee System, where she is second in command to the UT System President.
Senior Vice Chancellor Nash, who joined the UA System in 1992, will serve until December 31, 2019 as Senior Vice Chancellor and will retire in July 2020 after 28 years of service.
A native of Butler, Alabama, Dr. Johnson returns to her home state after leadership positions with the State University of New York at Stony Brook, Middle Tennessee State University, and Mississippi Valley State University in addition to her senior cabinet-level role with the UT System. A charter member of the University of Alabama Library Leadership Board since 1999, she is a member of the Council of Advancement and Support of Education (CASE) Board of Trustees, the University of Tennessee Graduate School of Medicine Board of Visitors and numerous other professional and civic affiliations.
She earned her undergraduate and master's degrees in communications from the University of Alabama and received her Ph.D. in urban higher education at Jackson State (MS) University. A communications specialist at the University of Alabama from 1993-1996, she is a former higher education reporter at the Decatur Daily.
"Dr. Tonja Johnson brings 30 years of impressive higher education experience to her position with our System," Chancellor Finis St. John said today. "As Senior Vice Chancellor she will provide oversight and leadership in academic planning, institutional research and programmatic coordination. We look forward to her arrival as we ensure a seamless transition following Dr. Nash's distinguished tenure."
In addition to administrative leadership positions, Dr. Johnson held faculty appointments at Stony Brook, Middle Tennessee State, Mississippi Valley State and Herzing University. She was assistant director of the University of Alabama Minority Journalism Workshop from 1988-1991.
Dr. Charles Nash's career achievements include administrative positions with the Board of Regents of the University System of Georgia (Director of Special Studies and Assistant Vice Chancellor); Armstrong Atlantic State University (Dean of the School of Education); and the Commission on Colleges at the Southern Association of Colleges and Schools (SACSCOC — Associate Executive Director).
He chairs accreditation committees for SACS, is a member of the American Bar Association's Council in the Section on Legal Education and Admission to the Bar, the New York Academy of Science STEM Advisory Committee, the A+ Education Partnership, the Alabama Access to Justice Commission, and a long list of other entities devoted to education, workforce development, teacher preparation and family services.
Dr. Nash earned his bachelor's degree from Jackson State University, his master's degree from the University of Southern Mississippi and his doctorate from Mississippi State University. He is graduate of leadership development programs at Harvard, Stanford and Oxford University and has received many civic and professional awards.
Comprised of three doctoral research universities (UA, UAB and UAH) and the UAB Health System, the UA System is Alabama's largest higher education enterprise and educates more Alabamians than any university system in the world. Fall 2019 enrollment is approaching 70,500 and there are 45,000 System employees. Overall economic impact exceeds $10 billion annually.