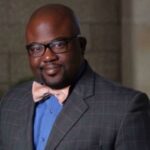 Dr. Braque Talley has been named Vice Chancellor for Enrollment Management and Student Success at the University of Arkansas at Pine Bluff.
"I am confident that Dr. Talley's leadership will help us continue our upward trajectory in Enrollment," said UAPB Chancellor Laurence B. Alexander. "We look forward to working with him and the entire enrollment management team in building on our most effective program of external engagement with two-year colleges, secondary schools, prospective students and their parents."
Previously the Vice President of Enrollment Management at Rust College in Holly Springs, Mississippi, Dr. Talley helped lead the college in achieving increases in overall student enrollment and retention. His team also has received more than $1 million in grants and other gifts to undergird student support initiatives.
Previously, he served as the Coordinator of Marketing and Recruitment at Alabama A&M University. Since 2008, he has served as an Ambassador to the Black College Fund (BCF), which allows him to travel domestically and internationally recruiting students and thanking BCF donors for their support.
A native of Starkville, Mississippi, Dr. Talley graduated from Rust College with a Bachelor of Arts in English/Liberal Arts. As an undergraduate, he was a member of the E.A. Smith Honors Society, Alpha Kappa Mu National Honors Society, and he was the President of the Student Government Association. He earned a Master's in Urban and Regional Planning, with a concentration in Community Development at Alabama A&M University, and a Ph.D. in Higher Education from Jackson State University.
Dr. Talley is active in several professional, civic and social organizations, and he has delivered numerous presentations at conferences and professional meetings. He has received recognition by the Starkville Daily News "Top 40, Under 40;" Mississippi Business Journal "Top 50, Under 40," and Rust College "Top 10, Under 10." Dr. Talley is married to Dr. Brittney Tate-Talley, and they have one daughter, Bridynn.
Dr. Talley succeeds Dr. Linda Okiror, Vice Chancellor for Enrollment Management and Student Success Emeritus, who recently retired from UAPB after 23 years of dedicated service. As vice chancellor, Dr. Okiror led the reversal of a downward trend in student enrollment, launched several initiatives that brought significant increases in student retention, and contributed to increases in the 4, 5, and 6-year graduation rates. She was responsible for the Offices of Recruitment, Admissions, the Student Success Center, the Living/Learning Centers, the summer Learning Institute and Opportunities for New Students (LIONS) Program. She also launched UAPB's partnership with SEARK College for the new Associate's to Bachelor's Dual Degree Program. She provided leadership to programs that create opportunities for new students and persistence to graduation for all students. She was first employed at UAPB in January 1996 in the School of Agriculture, Fisheries and Human Sciences, where she rose from Assistant to the Dean to Associate Dean for Academic Programs.