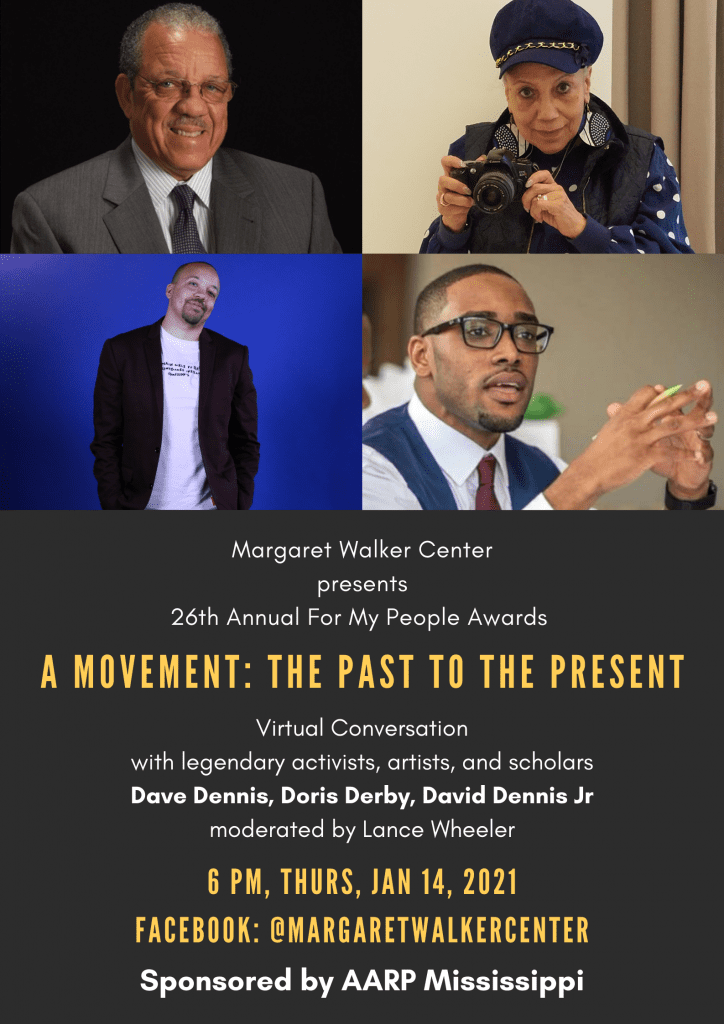 At 6 p.m. on Thursday, January 14, 2021, the Margaret Walker Center will host, via its Facebook page, its 26th annual For My People Awards, sponsored by AARP Mississippi.
This year's Awards ceremony will feature three recipients in a virtual conversation, A Movement: The Past to the Present. For their contributions to African American history and culture, Dave Dennis, Sr., and Doris Derby, legendary civil and human rights activists, will be honored along with David Dennis, Jr., an activist, scholar, and son of Dennis, Sr. The For My People Awards are named after Margaret Walker's classic poem, and past recipients have included James Meredith, Unita Blackwell, Robert Clark, Lerone Bennett, Andrew Young, Reena Evers-Everette and Charlayne Hunter-Gault.
David J. (Dave) Dennis, Sr., interrupted his collegiate experience during his freshman year at Dillard University in New Orleans to work in the civil rights movement in 1961, and he was arrested over 30 times in relation to his activities. He was on the first bus of the Freedom Rides from Montgomery, AL, to Jackson in 1961, and he served in both states as field secretary for the Congress of Racial Equality (CORE). In Mississippi, he was a co-director of the Council of Federated Organizations (COFO) and of the effort to organize Freedom Summer in 1964. Working closely with Mickey Schwerner and James Chaney, who were murdered along with Andrew Goodman as Freedom Summer began, Dennis spoke at Chaney's funeral, delivering a powerful and long-remembered eulogy. He returned to Dillard University, where he graduated in 1968. Continuing his education, he left for law school at the University of Michigan and graduated in 1971. Dennis joined Bob Moses–a fellow veteran of the civil rights movement–at the Algebra Project in 1991. Since then, Dennis and Moses have pursued "quality education as a constitutional right."
Dr. Doris A. Derby is an administrator, professor, documentary photographer, speaker, and author who earned her Bachelor of Arts from Hunter College in New York, and Doctor of Philosophy from the University of Illinois. She was one of the organizers of the March on Washington in 1963. Derby joined the civil rights movement in Mississippi, where she spent ten years (1962-1972), working with grassroots organizers in black communities to impact societal change.From 1990 until her retirement in 2012, Dr. Derby was Georgia State University's founding Director of African American Student Services and Programs and an Adjunct Associate Professor in the Anthropology Department. As a photographer, her images have been featured globally in numerous museums, galleries, universities, and websites.
David Dennis, Jr., is a writer and author of the forthcoming book The Movement Made Us (Harper), a father-son dialogue that will explore in part the elder Dennis's life behind the scenes of the civil rights movement. His work has appeared in the Guardian, the Washington Post, Playboy, the Atlantic, and other outlets. He is Professor of Journalism and Social Justice at Morehouse College and is a product of Jackson Public Schools. Dennis, Jr., will be the first recipient of the Margaret Walker Center's For My People – Doris Derby Legacy Award. Dr. Derby made a lifelong commitment to defending human rights and training new generations under her tutelage as an activist, scholar, artist and educator. The award honors descendants of activists who continue the traditions of the social justice movements of the 1950s and 1960s.
Moderating the panel discussion will be Lance Wheeler, education and public relations manager for the Margaret Walker Center.
Contact the Margaret Walker Center for more information and watch the 2021 AARP Mississippi For My People Awards at www.facebook.com/margaretwalkercenter.