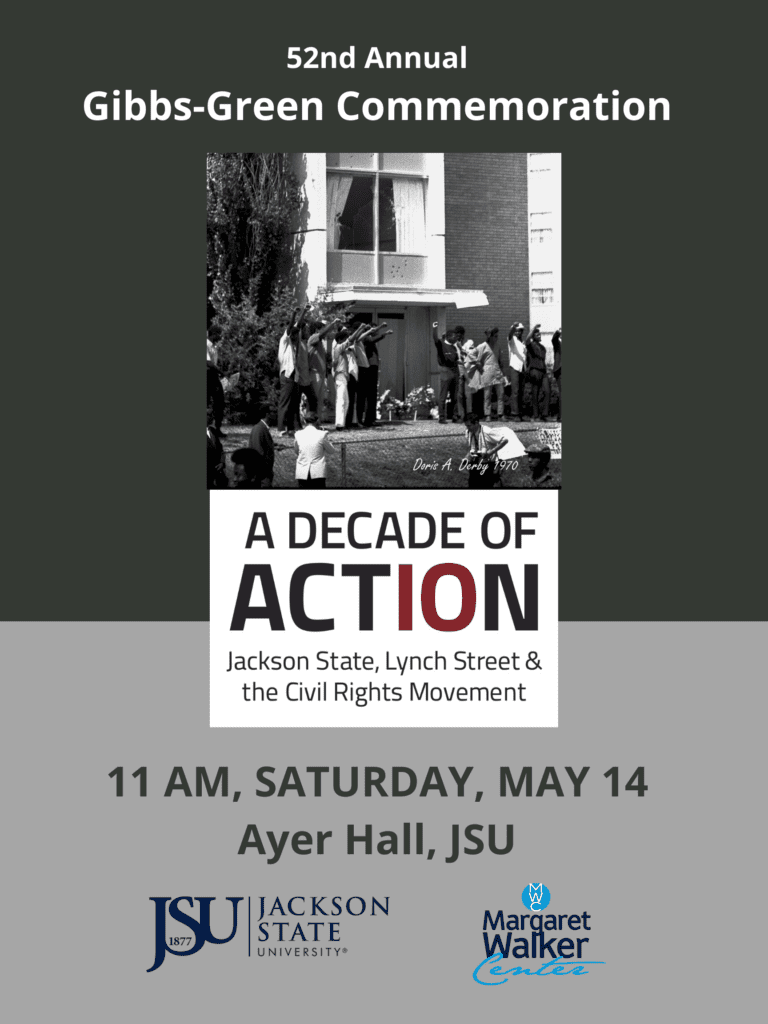 Exhibition Unveiling, Wreath Laying, & Reception
Please make plans to join the Margaret Walker Center for an exhibition unveiling, wreath laying, and reception in Ayer Hall at 11 a.m. on Saturday, May 14, for the 52nd annual commemoration of the Gibbs-Green tragedy at Jackson State University.
In the late hours of May 14 and into the early morning of May 15, 1970, Jackson City Police and Mississippi Highway Patrolmen marched on the Jackson State campus and fired nearly 500 rounds of ammunition in 28 seconds into Alexander Hall, a women's dormitory. Phillip Lafayette Gibbs, a Junior political science major, and James Earl Green, a Senior at nearby Jim Hill High School, were killed. Twelve others were shot, and dozens were injured by flying debris, glass, and brick in the ensuing chaos. No police officer was ever held accountable. Shortly after the shootings, campus was closed, and graduation ceremonies for the Class of 1970 were cancelled.
This year's commemoration will include the unveiling of a special exhibition, A Decade of Action: Jackson State, Lynch Street, and the Civil Rights Movement, in Ayer Hall. Founded in Natchez in 1877 as a seminary for freedpeople, Jackson State maintained a radical, social justice mission from the start. Educating African American men and women to provide community leadership as preachers and teachers threatened the Jim Crow establishment. Yet, the school endured and by 1956 offered a variety of undergraduate and graduate degrees in Mississippi's capital city.
Jackson State was the heart of Lynch Street, which was named in honor of a Black man who had risen from slavery to become a US Congressman during Reconstruction. Around the campus, a thriving African American business district and residential community emerged. Restaurants, clubs, theaters, shoe shops, pool halls, five-and-dimes, churches, a radio station, fraternal organizations, and more called the Lynch Street corridor home. Civil rights organizations opened their offices there, making the street a hub for the modern movement.
This exhibit explores the Civil Rights Movement on campus and around Lynch Street and the events that led to the brutal police shootings at Jackson State in May 1970.
Support for A Decade of Action was provided by the State of Mississippi, the Mississippi Department of Archives and History, and Senator Hillman Frazier. The exhibit was designed by Symmetry, LLC.