INAUGURAL HONORS MUSIC FESTIVAL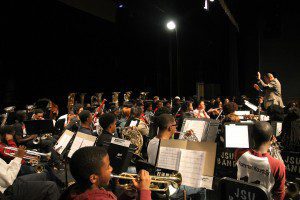 Greetings Music Students,
I would like to cordially invite you to the Inaugural Jackson State University. This is an intensive three-day festival for students in grades 9-12; designed to provide educational focus and opportunities for your musical growth.
The Honors Music Festival will feature a Honor String Orchestra and Honor Band with two special concerts provided and sponsored by the Jackson State University Department of Music. This festival provides an opportunity for advanced band and string students to further the development of their performance skills through rehearsals, sectionals, performances, and master classes. 
Online applications are now available. Student applications, including audition recordings, are due no later than Friday, January 12th. Those selected for participation will be notified of their acceptance by Friday, January 19th. The fee for each selected student is $45, which includes t-shirt, medal and reception). Checks can be made payable to JSU Department of Music and mailed to 1400 J.R. Lynch Street P.O. Box 17055 Jackson, MS 39217. The Honors Music Festival will include a concert by a special invited High School Symphony Orchestra on February 8th and the annual PRISM Concert presented by our Department of Music on February 9th. The festival will conclude with a concert by the Honor Band and Honor String Orchestra on Saturday, February 10th in Rose McCoy Auditorium.
Based on audition recordings, some students will be selected for a complimentary private lesson during the festival with faculty members.
If you have any questions or need additional information, please contact Dr. Ramon Jackson at Ramon.L.Jackson@jsums.edu or Dr. LaTannia Ellerbe at latannia.d.ellerbe@jsums.edu. We look forward to welcoming you to Jackson State University for our inaugural event. 
Musically yours,


Ramon Jackson, DMA, DME
Honors Music Festival Chair
601-979-2584
Ramon.L.Jackson@jsums.edu